Williams chief Sam Michael 'will stay in Formula 1'
Last updated on .From the section Formula 1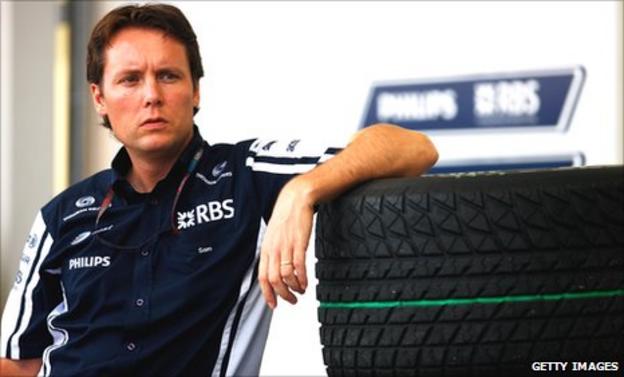 Williams technical director Sam Michael has revealed he will take another job in Formula 1 when he leaves the English team at the end of this season.
Michael resigned from his post amid Williams's worst start to a campaign since entering the sport in 1977.
The Australian, 40, told BBC Sport he planned to honour his contract, which runs until late December.
But he added: "I'll clearly be in Formula 1 next year. Where? I don't know yet. I can't talk about it."
Michael had stints with Lotus and Jordan before joining Williams in 2001 as senior operations engineer.
They came third in the constructors' championship in his first year, second in the next two and fourth in 2004.
In May 2004 he became technical director, but Williams struggled to create a winning package and slipped down the field.
They currently sit 10th in the standings after three races, with Rubens Barrichello and Pastor Maldonado failing to complete both the Australian and Malaysian Grands Prix and finishing out of the points in China.
Michael's departure was announced along with that of chief aerodynamicist Jon Tomlinson, while team co-founder and engineering director Patrick Head is set to retire, although Head will remain involved as a shareholder and board member.
Michael denied he had been forced out.
"It was my decision to leave Williams," he said. "I thought it was the right thing given that the board wanted to review the technical structure of the company and that was going to involve some changes in the staff that work for me and are employed by me.
"I thought it was wholly correct that as technical director I take responsibility if the board decided that the performances was not going to be strong enough and I wasn't prepared to not be included in that review.
"So it was my decision to resign, which I did after the Malaysian Grand Prix and that's where we are."
Both Barrichello and Red Bull driver Mark Webber, who raced for Williams in 2005 and 2006, have voiced their support for Michael and he admitted: "I've had some interest already from outside, which is encouraging."
But he insists he will remain loyal to his currently employer in the immediate term and is desperate to turn their fortunes around.
"The message I've been sending is that I really want to spend at least the next couple of months getting the FW33 to where it should be and where I know it is as a base car because my priority is that first," Michael explained.
"I have seven months left at Williams and my contract with them is to develop the car and make sure it's as high performing and reliable as possible.
"There might be a point when new engineers come in that Williams want me to step back from some of that work, but at this stage that's not even a discussion. As far as I'm concerned it's just business as usual until I finish.
"If it gets to the point where Williams decide it's better for someone else to do it, that's fine. But I want to leave Williams very professionally and in the best position going forward."
There were signs of improvement ahead of Sunday's Turkish Grand Prix as Barrichello qualified in 11th and and Maldonado 14th.
"Over the next three or four races we've got a lot of upgrades coming and that process started here in Istanbul this weekend," Michael continued.
"We have three or four pieces here. The main ones were a new front wing, a new rear wing and brake ducts - the only part that we raced on both cars was the rear brake duct.
"The new rear wing is quite a big step - and it worth about three tenths in qualifying. It was too risky to take into the race weekend and we hope to have it fixed for Barcelona.
"We hope to have an exhaust blown diffuser for Barcelona and a new front wing for Monaco."