Renault's Robert Kubica enters new recovery phase
Last updated on .From the section Formula 1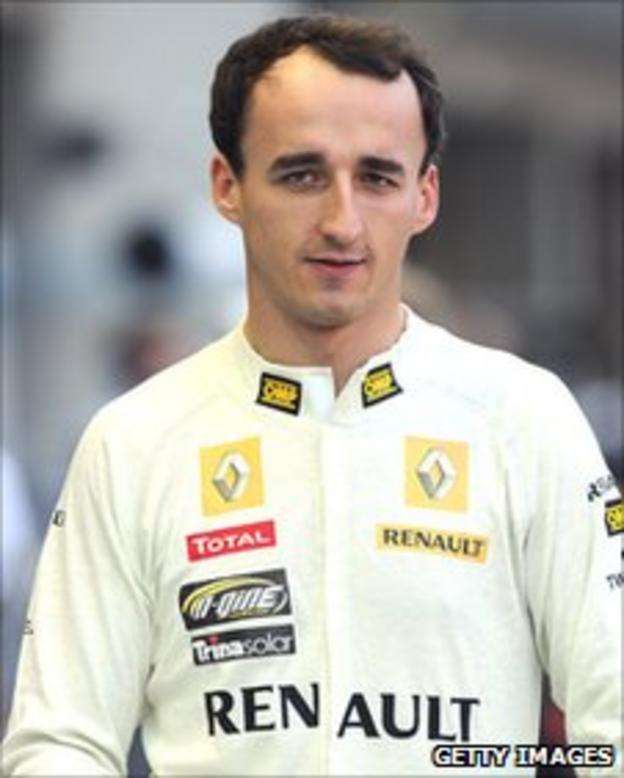 Robert Kubica has undergone a further small operation as he continues his rehabilitation from his rally accident in Italy in February.
Doctors removed adhesions affecting the functionality of the 26-year-old Pole's right forearm and elbow muscles.
The Renault team confirmed in a statement on their website that the surgery was routine and that "everything went according to plan".
They added that doctors feel the first stage of his recovery is now complete.
"Thanks to Robert's strength and to a highly attentive medical plan, the delicate period was overcome positively and without any complications," the statement continued.
"With the progress of his recovery, we are now entering the second phase, which is heavy rehabilitation aimed to restore functionality."
Kubica has been slowly recovering from injuries that could still prevent him from returning to the sport.
He spent 10 weeks in the Santa Corona Hospital in Italy after suffering a partially severed hand and multiple arm and leg fractures suffered while competing in the Ronde di Andorra.
He was forced to undergo four surgical procedures after the accident and more small operations similar to the one carried out on Tuesday are planned.
Renault team boss Eric Boullier went to visit Kubica in Italy after Sunday's Turkish Grand Prix and reported that the doctors were pleasantly surprised by the improvement in his condition.
"Now, it is a matter of time and, even if patience isn't Robert's first quality, he is fully aware that rehabilitation could be quite a long process," Boullier said.
Germany's Nick Heidfeld is currently deputising for Kubica at Renault, alongside Russian Vitaly Petrov.
Heidfeld and Petrov lie seventh and eighth respectively in this season's drivers' championship standings, each having taken 21 points from four races.