Ferrari's Fernando Alonso vows to mount title challenge
Last updated on .From the section Formula 1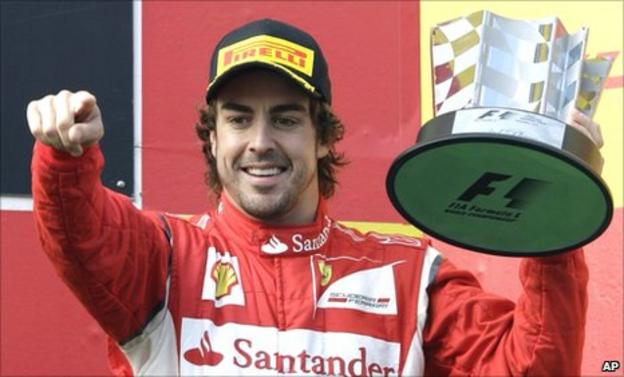 Fernando Alonso says he is "convinced" he can mount a title challenge as long as Ferrari maintain their upturn in form following the Turkish Grand Prix.
The Spaniard is 52 points - more than two wins - behind Red Bull's Sebastian Vettel after four races.
But Alonso, runner-up to Vettel in 2010, said: "What matters are results and we've started to make the podium.
"We must do that regularly and if so I'm convinced that we will again be able to fight for the title."
Alonso was a strong third at the Turkish Grand Prix following a race-long battle with Mark Webber, who ultimately held him off to secure a 1-2 finish for Red Bull.
And Alonso made the point after the race that his eventual deficit to Vettel, the winner, was about the same amount of time he lost being held up by Nico Rosberg's Mercedes in the early laps.
He said on the Ferrari website that he had spent time analysing his starts to the season in 2010 and 2011.
"What came out of this little game was that compared to 2010 I'm eight points short [49 versus 41] but in the same four races [Australia, Malaysia, China and Turkey] this year I've brought home 13 more points compared to last year [41 versus 28]," he said.
"It's true that my current gap to the top of the drivers' championship is much greater [52 points] compared to what I had after Shanghai 2010 [11 points] but I well recall that after Silverstone [last year] we were 47 points away and we only had eight races left.
"Today we still have 15 grands prix to come. This shows that you can look at the same thing in two different, even completely opposite ways."
Ferrari had a disappointing start to the season, with their car lacking the pace of Red Bull or McLaren, who until Turkey had been Vettel's closest pursuers, with Lewis Hamilton the only man apart from Vettel to win a race this season.
Ferrari blamed the problems on issues with their wind-tunnel data and not pushing hard enough with the design of their car.
They have since stepped up their development programme and have a raft of new parts to add to the car in the forthcoming races.
The first of them - new front and rear wings and brake ducts - were added in Turkey.
Although Alonso again qualified fifth, as he has for every race this year, his deficit to Vettel on pole was slashed from 1.4secs to 0.8secs.
In the race, Alonso generally matched the lap times of Vettel and Webber, and passed the Australian for second place at one stage, before losing out in the closing stages because Webber had fresher tyres.
"We took our first podium of the year," Alonso said. "It was about time because we'd missed out on finishing a race in the top three for too long, but what was especially important was to fight for the top places until the end.
"That already happened in China with Felipe [Massa] and in the two previous races we were also close to the podium: finally we have now achieved what we were capable of.
"Third place was also important for the morale of the team. We were all unhappy with a start to the season that did not live up to expectations and we know how much good it does to see that the efforts expended every day are paying off.
"But we certainly can't be happy with a third place and what matters most is that we must be much more competitive in qualifying.
"If we always start from the third row or lower, it's a struggle to fight for the podium.
"We have a lot of irons in the fire and we hope that as early as next week in Barcelona we will have new parts that allow us to take an important step forward in qualifying as well."