Jenson Button and Lewis Hamilton target Red Bulls in Spain
By Andrew Benson
BBC Sport at the Circuit de Catalunya
Last updated on .From the section Formula 1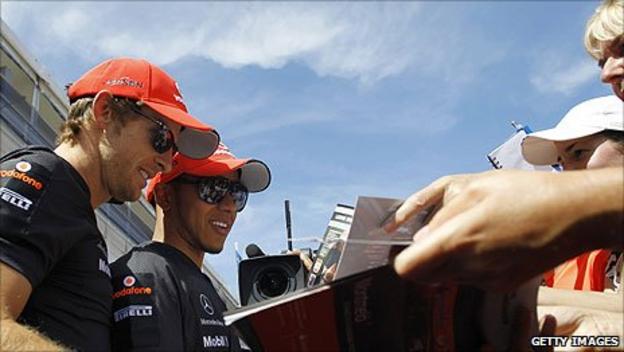 Jenson Button is hopeful he and McLaren team-mate Lewis Hamilton will be able to compete with Red Bull in Sunday's Spanish Grand Prix.
Red Bull driver Sebastian Vettel is dominating the championship having taken three wins and a second place from the season's first four races.
Button said: "We've got a lot of updates here and there's a reasonable amount of lap time there.
"Whether we can fight with the Red Bulls? We can hope. That's the aim."
McLaren, like most of the leading teams, have a major upgrade package to fit to their car at Barcelona's Circuit De Catalunya.
They have brought again new parts that they had to abandon at the preceding race in Turkey following reliability concerns, and have more new parts on top of that.
They hope that will close the gap to the season's dominant car at a track that is expected to be perfectly suited to it - Red Bull's Mark Webber dominated this race in 2010 having qualified on pole by nearly a second.
Button said: "The stuff we were going to put on the car in Turkey, makes the car look a little bit more sexy - and faster, obviously. And also the updates we were always going to bring to Barcelona.
"It's not as straightforward as the quickest car in qualifying.
"It's a very long drag down to Turn One here, and even if they qualify half a second in front of us, we can still outdrag them into the first corner, and then the race is anyone's.
"So I think they've done a great job so far this year and so has Sebastian. But even if they do a great job in qualifying, I still think we can race them."
Hamilton added: "If they stay where they are pace-wise, race-wise they're 0.1-0.2 quicker than us.
"If they have that gap still, then we may be closing on it a little bit this weekend, but you have to assume they are brining updates that will propel them forwards. We have to assume the gap will be the same. We will find out in the next few days."
Hamilton admitted that the circumstances of the individual races had meant Vettel had not yet had to extend his car to its limits.
"They've not been in the position so far where they've had to have the full whack (on the engine settings) and really test the limits of the car," he said. "We're trying to make that happen, but it's not that easy."
Hamilton is the only driver other than Vettel to win a race this season and although he is second in the championship he is 24 points behind Vettel.
Button is fourth, behind Webber, 37 points adrift of Vettel.
But Button denied that the championship was already a lost cause, pointing to his own start to his title winning season in 2009, when he won six of the first seven races for the Brawn (now Mercedes) team.
"He is a long way ahead. I had a massive gap in 2009 and Sebastian and Mark almost beat me in the championship," Button said.
"It's a different situation, they have resources and they are willing to use them.
"They are obviously very difficult to beat at the moment and that's going to be the case for the next few races, but we're not giving up. It's something you definitely fight for until the last race."
Fernando Alonso, who has extended his contract with Ferrari until the end of 2016, is fifth in the championship.
The Spaniard is hopeful he can close the gap on runaway leaders Red Bull and compete for the world title.
He took a competitive third behind the Red Bulls last time out in Turkey and expects to be closer again at his home race this weekend.
"We had new parts in Turkey and made a step forward, and we have the second stage of those parts here," he said.
"We are optimistic and confident and we intend to be fighting with them soon."
Alonso engaged in a race-long battle for second place in Turkey with Red Bull's Mark Webber, behind the Australian's team-mate Sebastian Vettel.
At one stage, Alonso passed Webber for second place, only to lose the place again towards the end of the race because his tyres were older - and therefore had less grip than Webber's.
The Spanish race was one of two events where Red Bull had their biggest advantage over their rivals in 2010, the other being Hungary.
Webber qualified on pole by nearly a second at the Circuit de Catalunya last year, and took a dominant victory in the race.
But although Red Bull's advantage has been bigger at every race this year than it was last season, with Vettel taking three wins and a second place from four races so far, Alonso said he did not expect Vettel and Webber to be so far ahead this weekend.
"Anything can happen in Formula 1," he said. "For sure, Red Bull have been very dominant in the first part of the championship. It was difficult to beat them in the race, and nearly impossible to beat them in qualifying.
"But we want to change this, starting here in Barcelona.
"It's true the gap was one second last year - and this year it was even more than that at some tracks.
"But we are working hard and think the gap will close. I would be disappointed if it is a second again. We try to make some time again this weekend."
Webber said: "Two tracks stood out for us last year - here and Hungary. But that was as much a surprise for us as it was for the other guys.
"Of course we hope to have a nice advantage again coming to this venue, but it's not a given.
"The car should perform well around here. The gap in qualifying was quite big, and the gap to Lewis [Hamilton] was under control, but it was a bit different to qualifying.
"That's what we've seen for the last two years with the Red Bull. We have been strong in qualifying, and still strong (but not as strong) in races. I hope we still have a good gap."
Vettel's flying start to the season has left him with a 34-point lead over McLaren's Hamilton - the only other driver to win a race this season - in second place. Alonso is fifth, 52 points - more than two wins - adrift.
But Alonso said that did not mean Vettel would necessarily win the championship.
"In the championship, if you look at the numbers, you see Vettel quite far in front and then a group of six or eight cars not too far behind. It is only Sebastian who went a little bit too far at the moment and this is also thanks to his fantastic driving in the first four races.
"It's up to us to recover this gap. It's up to us to have a more competitive car than Red Bull and win races.
"If we do that, the championship is long (enough) to recover the gap and still plenty of races. But to do any reaction and recovery in terms of points, you need to have the best car.
"It has happened many years. It happened in 2006 to me. I remember after Canada I had 35 points to Michael (Schumacher), which is 75 or 80 points of today [because the points system has changed], and Michael had two points more than me with two races to go.
"Any gap you can catch up, but you need to have the best car in one part of the championship, so we are working on that."
Vettel, who is chasing his first win in Spain, was in typically cool mood when it came to his expectations this weekend and in the title race.
"It's a long way to go," the 23-year-old said. "Many things can happen.
"I'm not feeling comfortable or worried at the moment. I'm just taking it race by race."