Ferrari open to running second top driver with Alonso
By Andrew Benson
BBC Sport at the Circuit de Catalunya
Last updated on .From the section Formula 1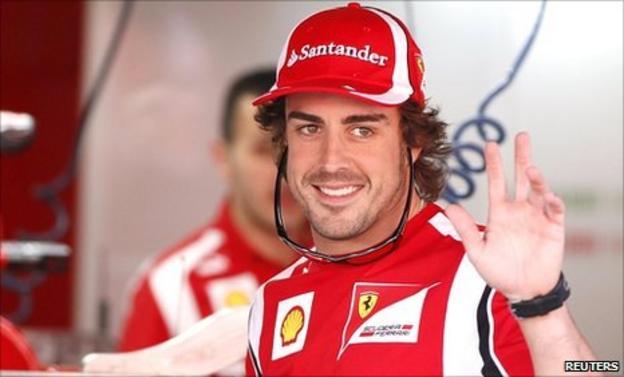 Ferrari say the door is open for another top driver to join the team despite their new agreement to keep Fernando Alonso until 2016.
The Spaniard spent a tumultuous season at McLaren alongside Lewis Hamilton in 2007 and prefers to be the main focus of a team.
But Ferrari team principal Stefano Domenicali said: "In the future, we and I are open to any other solution.
"I don't close the door to anyone - 2016 is a long time away."
Alonso left McLaren one year into a three-year contract at the end of 2007 after falling out with the team over the way they handled their drivers.
Although he has never said so himself, it is widely believed in F1 that Alonso effectively demands de facto number one status in a team.
Alonso's performance in comparison with his team-mate Felipe Massa, whose contract expires next year, has made that the case at the moment - and the Brazilian was famously asked to hand victory in last year's German Grand Prix to aid the Spaniard's title bid.
Ferrari's decision to extend Alonso's contract for such a long period has been interpreted as the team effectively acknowledging that would remain the case throughout that period.
That would mean drivers such as Hamilton or Sebastian Vettel, the reigning champion, could almost certainly not be accommodated.
But Domenicali, who was speaking in an exclusive interview with BBC Sport, shrugged off that suggestion, saying: "I don't think so."
It was pointed out that Alonso probably would not be very happy about having Hamilton alongside him again.
Domenicali said: "Never say never - but I don't want to upset my friend Martin [Whitmarsh, the McLaren team principal] and have him think I want to have his driver. I am very happy with Felipe at the moment.
"The signal of such a long relationship with Fernando is that as strong a driver as he is giving the commitment to the team means a lot for all the people in it. It means he trusts the people here. It is an important signal and I see already the reaction from the people.
"That is what I was expecting, to see people motivated, to realise we need to look at the present but also the future. It is a key point for a strong team to have a reference guy that is in the team."
Hamilton said on Thursday: "I don't have a drama being alongside him, but I assume he wouldn't allow it to be the other way around. I don't really care. I'll beat him in another car."
And Vettel, who has said recently that he would like to drive for Ferrari at some point in his career, said: "I never said anywhere that the fact that Fernando or Felipe drives for Ferrari, or any other driver, it is impossible to go there.
"As far as I know, F1 teams have two cars. Probably that kicks off some headlines! But I am very happy where I am so at this stage I don't care.
"It's nice if that's he wanted. In the end, we are all in the same boat.
"Ultimately we are looking for a package that makes us happy, whether that is results or the environment inside the team.
"At this stage, I don't really care as it is so far away. I renewed my contract [with Red Bull] at the beginning of the year [until the end of 2014)]. It is quite far away and many things can happen."