Red Bull dominate final practice in Spain
By Andrew Benson
BBC Sport at the Circuit de Catalunya
Last updated on .From the section Formula 1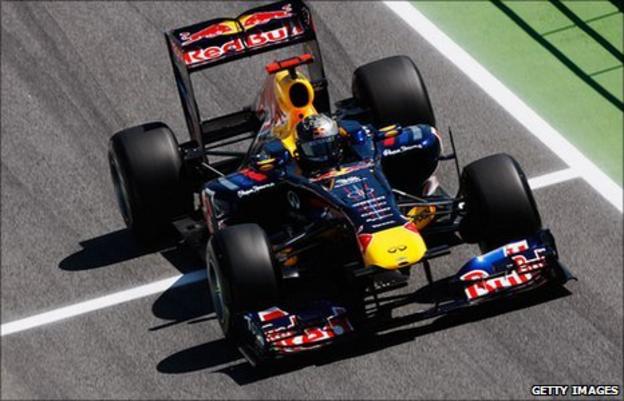 Red Bull are poised to dominate qualifying for the Spanish Grand Prix after setting a searing pace in final practice on Saturday.
Sebastian Vettel pipped team-mate Mark Webber to fastest time and the German was a massive 1.350secs in front of Michael Schumacher in third.
The Mercedes driver headed McLaren's Lewis Hamilton and Jenson Button.
Nick Heidfeld escaped unhurt from a spectacular fire in his Renault following a suspected engine failure.
Vettel was not able to get out on to the track until the final three minutes of the session while his mechanics laboured to fix what BBC F1 pit-lane reporter Ted Kravitz said was an electrical problem with his car's engine.
But as is so often the case, one lap was all the world champion needed to head the timesheets, and leave Webber with the familiar feeling that, over one lap, his team-mate has the edge on him.
Webber had been fastest in Friday practice and had a full session on Saturday morning to tune his car - only for Vettel to beat him with no preparation.
BBC 5 live analyst Maurice Hamilton commented: "The Red Bulls have it all sorted, despite Vettel's issues, to go out and do a single lap that fast - how cheeky is that?
"It is so demoralising too. The big question mark is how well Red Bull is getting on in making the harder tyre work, but it's looking ominous for the rest."
Mercedes look in good shape with Schumacher third and Nico Rosberg sixth, especially as the younger German was actually ahead of his veteran team-mate on split times until being held up in the final sector of the lap.
McLaren had a disrupted session after the gearboxes on both cars were changed before Hamilton and team-mate Jenson Button took to the track.
Hamilton ended up 1.361secs behind Vettel, with Button a further 0.15secs adrift of his team-mate.
They will be disappointed - if not entirely surprised - to be so far off the pace of the Red Bulls.
But their problems were as nothing compared to Ferrari, who had a troubled session after they were forced to take off their car a new rear wing they had brought to this race.
Fernando Alonso, who it was revealed on Thursday has extended his contract with the team until 2016, described his car as "undriveable" before ending the session ninth fastest.
He was beaten not only by the Red Bulls, McLarens and Mercedes but also by the Kamui Kobayashi's Sauber and the Renault of Vitaly Petrov.
Alonso's team-mate Felipe Massa was 11th, behind the Williams of Rubens Barrichello, but only 0.05secs off Alonso.
The Ferrari wing had exploited a loophole in the regulations to run a wing that was 30mm higher than was allowed.
The rule concering slot-gap separators - which keep the two parts of the rear wing apart - includes a clause saying that another rule, which governs overall height, can be ignored.
But race director Charlie Whiting said that the extensions were not performing the role of a slot-gap separators, so did not fall under that rule, but rather under the wider regulations.
Renault suffered a setback when Nick Heidfeld's car burst into flames and he had to abandon it out on the track. Flames were pouring out of the engine bay and the exhausts, which on the Renault exit out of the front of the sidepods beside the driver.
Heidfeld said it was "one of the biggest fires" he had experienced.
It remains to be seen whether the team will be able to mend the car in time for qualifying, which starts at 1300 BST.
"We just have to take the car apart," he said. "It is quite damaged on the right-hand side. If the chassis is damaged it's going to be a problem. It's too early to know. We have some ideas what caused the fire but I don't want to speculate."
Barrichello's pace was encouraging for the troubled Williams team, who have endured the worst start to a season in their history.
Barrichello was testing a raft of new parts with a view to using them in qualifying and the race if they improved the car.
Toro Rosso and Force India were struggling in the lower midfield despite both brining big updates to this race and Scotland's Paul di Resta could manage only 17th place ahead of the three teams that were new to F1 last year.
Among them, Lotus again led the way, with Heikki Kovalainen ahead of Jarno Trulli, with Timo Glock's Virgin next from the Hispania of Vitantonio Liuzzi.
Virgin decided to abandon their new exhaust-blown diffuser, a key aerodynamic part at the back of the car, following FIA race director Charlie Whiting's decision to say he thinks so-called hot-blown diffusers.
These devices are when extra fuel is burned when the driver is off the throttle to enhance downforce.
Following discussions with the teams Whiting has decided to delay the ban until after the Canadian Grand Prix next month, but the fact that he has said he considers them illegal raises the prospect that a team that does not have one could protest a team that does.
But Virgin sporting director and president Graeme Lowdon said that was not his team's intention.