Ferrari tech boss Aldo Costa pays price for poor start
Last updated on .From the section Formula 1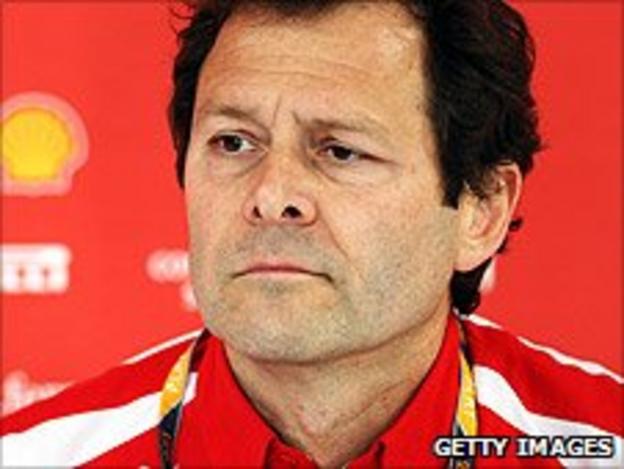 Ferrari have restructured their technical team after a disappointing start to the Formula 1 season.
Aldo Costa has stepped down as technical director "to take on new responsibilities within the company".
Pat Fry becomes the director for the chassis department with Corrado Lanzone in charge of production.
Red Bull's Sebastian Vettel emphasised just how far behind Ferrari are by lapping Fernando Alonso on his way to victory in Sunday's Spanish Grand Prix.
Vettel won his fourth race of the season, while Alonso, who finished fifth at the Circuit de Catalunya, is Ferrari's closest challenger in fifth place, 67 points adrift.
A statement from Ferrari read: "Scuderia Ferrari Marlboro announces that, as from today, Aldo Costa relinquishes his current position as technical director to take on new responsibilities within the company.
"At the same time, the technical activity has been restructured in three areas: director for the chassis side is Pat Fry, production is in the hands of Corrado Lanzone, while engine and electronics continues with Luca Marmorini. All three report directly to the team principal, Stefano Domenicali."
Fry spent 18 years as chief engineer at McLaren before joining Ferrari in July 2010 and was Costa's deputy.
However, he replaced Chris Dyer as head of race track engineering in a new year reshuffle after Alonso failed to win the 2010 world championship.
Dyer was seen to be paying the price for poor advice to Alonso in Abu Dhabi, when the Spaniard - leading the standings by eight points going into the final race - could only finish seventh.
Ferrari's lack of performance so far this year has already led to Domenicali, Costa and Fry flying back to Italy after the Malaysian GP, instead of travelling to Shanghai for the Chinese GP, in order to investigate the problems.
Since then, Ferrari's best result was third in Turkey and with Vettel claiming his fourth victory out of the first five races of the season in Spain, Domenicali admitted: "If Red Bull keep progressing, then no doubt it [the title] will not be easy."
The next race of the season takes place in the streets of Monaco on Sunday, with first practice starting on Thursday at 0900 BST.