Injured Robert Kubica is on track for 2012 F1 return
Last updated on .From the section Formula 1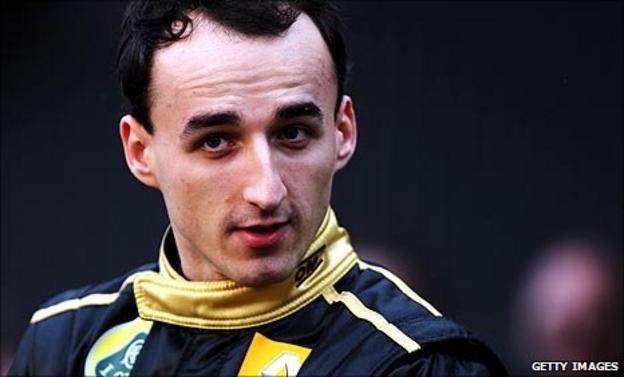 Injured Renault driver Robert Kubica says he is confident he will return to Formula One in 2012.
Speaking to the Renault website, Kubica was asked whether he would be on the grid next year.
"Yes," the Pole said. "I am satisfied with how things are proceeding. Mentally, I've no problem at all."
Kubica's most notable injury was a severed right hand, but the range of injuries he suffered was fairly severe.
He added: "Physically, I am still a bit weak, but my general condition is quite good.
"My weight has now returned to its normal level and for a few weeks I've been able to walk without help. All in all I feel pretty well.
"The improvement is in line with the expectations, and luckily there are no complications that could affect the recovery time.
"It is still too early to have a clear picture for the timing of my return, but the important thing is the final outcome, not the hurry."
Kubica said he had no recollection of the accident, and consequently no psychological barrier to racing again.
"I am just aware of the consequences it had," he said. "So to me it's as if it never happened."
He said there were no doubts about which team he would drive for.
"I'm a Lotus Renault GP driver," he said. "Of course, I'm missing not being able to drive this season but I feel that my job in Enstone isn't finished yet."