Di Resta aggrieved at 'harsh' drive-through penalty
Last updated on .From the section Formula 1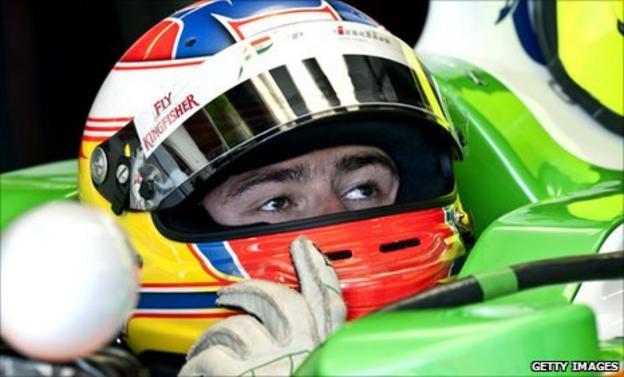 Paul di Resta has hit-out at the drive-through penalty he incurred during the Canadian Grand Prix, branding the decision "ridiculous".
The Force India driver was deemed to be at fault for colliding with Renault's Nick Heidfeld while attempting an overtaking manoevre.
The Scot is adamant that he was not to blame for the collision and urged his team to pursue the matter further.
"It's not even harsh, it's ridiculous," di Resta said.
"I'd had a chance of passing Heidfeld the lap before the incident but thought I'd bide my time.
"I got another run on him, got alongside him, but where he was trying to brake and what he was trying to do, he was never going to make the chicane and he took my front wing off," di Resta continued.
"So I had to stop for a wing change and I got a drive-through penalty, which again I thought was harsh.
"I don't see how I was at fault for that. He came in front of me, yet I still made the corner and he didn't and all that happened was the front-wing end plate came off, so I didn't batter him."
Di Resta was in fifth place in Sunday's grand prix before the incident with Heidfeld but eventually retired from the race with two laps remaining following another unsuccessful overtake on Williams' Rubens Barrichello.
The 25-year-old has now been penalised twice in as many races after he received a penalty at the Monaco Grand Prix following another overtaking incident, on that occasion involving Jaime Alguersuari, but he feels the latest sanction was unfair.
"This time, I feel it was definitely not deserving of a drive-through, which was precious in terms of time," Di Resta said.
"It definitely needs investigating."
Di Resta concedes the last two races of his debut Formula One season have been "massively challenging", but he is looking forward to getting back on the grid at the European Grand Prix in Valencia.
"We live to fight another day," he added. "I've just got to give myself a few days before I think too much about it.
"Obviously I'm going to be down and disappointed, but when I arrive at the next grand prix, I have to be fully focused on trying to achieve more.
"It's tough because the decision was hard, but I can't beat myself up too much about it."