Adrian Sutil calm over F1 future despite legal action
Last updated on .From the section Formula 1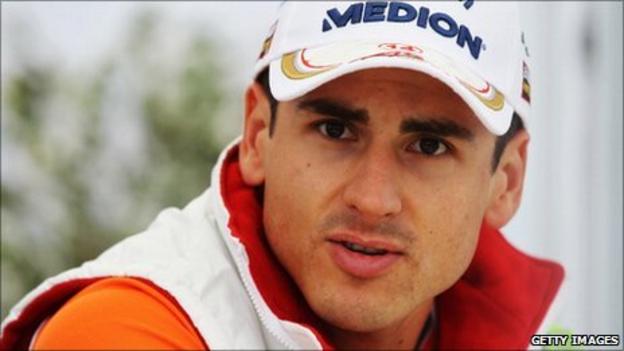 Force India's Adrian Sutil believes his seat is safe despite a criminal complaint being filed against him.
Sutil is accused of being involved in an incident with Renault F1 executive Eric Lux in a nightclub following the Chinese Grand Prix in April.
"What can I say? I have to concentrate on my job, and if he [Lux] does that [file a complaint] then we can of course go to court," said the German.
"But why should I lose my drive? It's a private thing and it's my work here."
Following the incident, the 28-year-old issued a statement confirming his attendance at a nightclub where he "unintentionally injured another guest".
But a lawyer for Lux, the Luxembourg-based chief executive of Genii Capital which owns the Renault F1 team, said in April that he would file a criminal complaint against Sutil for physical assault and grievous bodily harm - and now he has officially done so.
This was confirmed by a spokesman for the Munich state prosecutor, who will now investigate to ascertain whether there is enough evidence for a trial to be heard.
Last month, Force India owner Vijay Mallya said he would only address the issue "if and when he [Sutil] is charged".
Speaking from the paddock in Valencia ahead of this weekend's European Grand Prix, Sutil said he had yet to receive anything in writing regarding the criminal complaint.
"It depends on what is the truth," he stated. "We want to hear the truth, and we hope we are going to know that very soon.
"The story came out this morning. To be honest, I didn't read it until the last few minutes prior to speaking to you guys [the media]. You know before me, that's your job.
"Of course, it's a bit strange it has taken so long, but now it's out, let's see. Everything else we will find out. First of all I have to know what is going on.
"I will speak with my manager [Manfred Zimmermann] and see what is next."