British GP is biggest race of my career - Paul di Resta
Last updated on .From the section Formula 1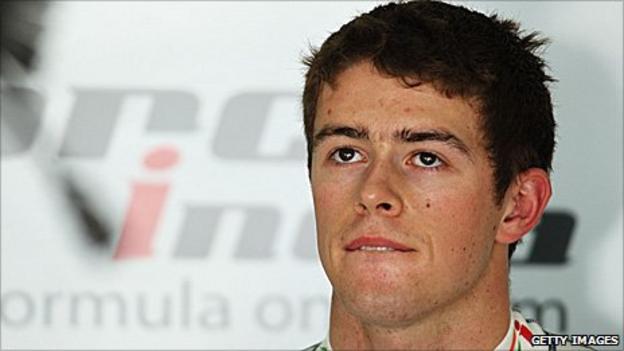 Paul di Resta says he is preparing for the "biggest race" of his career at the British Grand Prix on 10 July.
The Scottish Force India driver has never raced around Silverstone's grand prix circuit but is sure the pressure will not get to him.
"It's a big day, probably the biggest race of my career," said Di Resta, 25.
"There is a bit more added pressure but I'm certainly not going to put myself under it. I treat all grands prix the same and put 100% into them."
Di Resta joined McLaren duo Lewis Hamilton and Jenson Button as the third British driver on the grid by signing for Force India this season.
Hamilton won at Silverstone in 2008, while Button has yet to finish on the podium and Di Resta, who has scored two points so far this season, is now regarding the race on home soil as his next big challenge.
"Getting into F1 is a massive achievement and your first grand prix is a big thing," Di Resta continued. "But to arrive at your first British Grand Prix as a race driver at the start of a new generation of Silverstone is something quite special as well.
"I've never raced around Silverstone so it's going to be different.
"I was the first one out on track in Friday practice [for Force India] last season and it was incredible, what an atmosphere.
"You can still see what's happening in the grandstand on an installation lap and the place is just alive the whole weekend. Silverstone, for me, is the home of F1."
Silverstone introduced a new layout for the 2010 British GP, blending a series of corners after Abbey before rejoining the old track at Brooklands and lengthening the track by almost half a mile.
Now, with the opening of the new pits and paddock complex, the start-finish line has been moved between Club and Abbey corners.
"F1 cars excel themselves here," added Di Resta. "It's a small, complex circuit but it's all aerodynamics.
"The biggest interest this year is the first sector, which is demanding and high speed.
"It would be great to have a nice result and to celebrate on a Sunday afternoon when everybody's there."
Di Resta now lives in Monaco and although his father Louis and girlfriend Laura have been to watch him race in F1 this season, Silverstone offers the first chance to invite the rest of his family along.
"My mum and my brothers haven't been to any events so it'll be good to see them," Di Resta added. "They've been part of the journey and it's nice for them to get close and see it.
"I'll try and spend time and catch up with everybody when I have free time - and I'll try to enjoy it as well."