Red Bull designer Adrian Newey baffled by rule changes
Last updated on .From the section Formula 1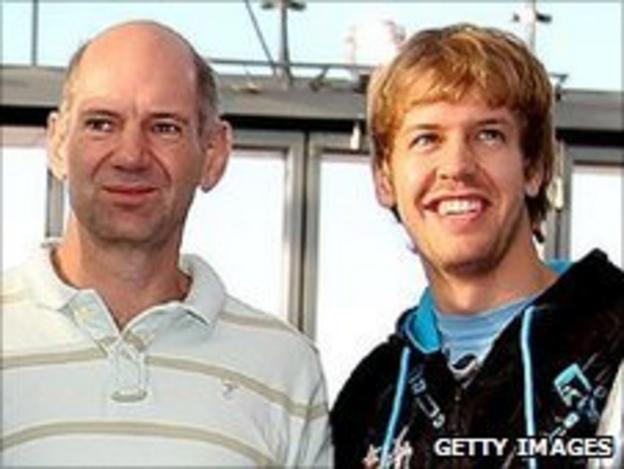 Red Bull designer Adrian Newey admits "baffling" new rule changes could hit his team's bid for Formula 1 glory.
New regulations which come into force for this weekend's British Grand Prix have seen off-throttle blown diffusers - which generate downforce - banned.
"We'll be quite heavily affected because our car was designed around the exhaust," Newey said.
"So it might be that it's going to be more of a hit for us, but it's very difficult to forecast."
The diffusers enable the cars to blow exhaust gas even when the driver is not pressing the accelerator, smoothing the airflow at the back of the car and increasing downforce.
As it was they who pioneered the now illegal device, Red Bull fear they have the most to lose.
They currently lead the constructors' championship by 89 points from McLaren, with Sebastien Vettel 77 points clear at the top of the drivers' standings - but Newey admits those leads are not unassailable, especially with the rule changes.
"Everybody else has, generally speaking, copied somebody else's principal - mainly ours - and adapted it to the car they had in pre-season," added Newey.
"We're less than half the way through the championship. So if somebody finishes the year as we have started, then they could easily overtake us. We certainly can't take anything as read.
"But I'm slightly baffled by it [the regulation change] because it had been declared legal forever up until this race."
Newey has been putting in the hours in order to redesign the car in time for the Silverstone race - something which has also come at a troublesome time for him as Red Bull have already begun work on their 2012 model.
"It's also a difficult time of the year because this is when we are looking at next year's car as well," said Newey.
"In a normal development cycle you split your resources at this time of year, but suddenly this year's resource has extra workload to cope with.
"Through the organisation there is extra load for something that was unexpected."