Jenson Button insists Sebastian Vettel can be beaten
By Andrew Benson
BBC Sport at Silverstone
Last updated on .From the section Formula 1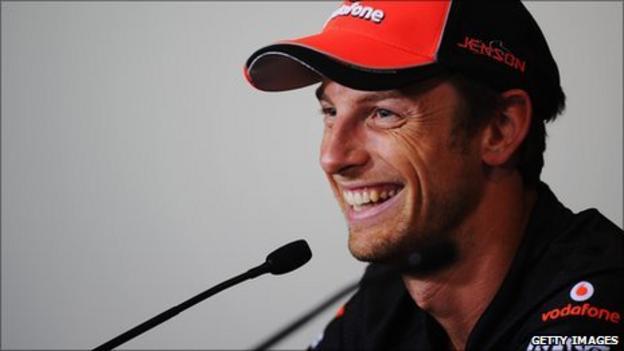 McLaren driver Jenson Button insists runaway Formula 1 leader Sebastian Vettel can be beaten at Silverstone.
The Red Bull driver has won six out of eight races this year and is hot favourite for another victory on Sunday at the British Grand Prix.
Button, 31, said: "They [Red Bull] are extremely quick, have reliability and it is tough to beat them.
"(But) we have beaten them twice. We are close to them - it's not like they have a massive, massive advantage."
Button and his McLaren team-mate Lewis Hamilton are the only men to have beaten Vettel this season, each winning one race.
Vettel has been just as dominant in qualifying, starting from pole position in all but one race, with team-mate Mark Webber the only man to beat him to top spot on the grid.
But Button rejected any suggestions that Vettel was cruising to his many victories.
"Seb is still pushing hard," he said. "He's on the limit.
"He's obviously done a very good job in qualifying and in the races it's been a bit more difficult for them. It's not a walk in the park for him - he's still having to push hard and I hope it continues for him."
Button pointed out that McLaren had competed with Red Bull for victory in four of the eight races. "Two times we beat them," he said, "and two times we didn't."
But are we in for a repeat of the start of the last decade, when Ferrari and Michael Schumacher dominated the sport?
"I don't think so," Hamilton said. "The rules are changing all the time. They've clearly established that they are a strong team. But I don't think it will be the same situation [as Ferrari] - there was a lot more to it in the Schumacher days."
The fast sweeping turns of Silverstone are expected to suit Red Bull, and Button admitted winning his home race would be difficult.
"There's always a chance - whether it's a big enough one I don't know," he said.
McLaren's biggest hope this weekend may lie in a reinterpretation of the rules. Formula 1's latest must-have technology, the off-throttle exhaust-blown diffuser, has been banned.
This involved flowing exhaust gases over the rear floor of the car - even when the driver was not accelerating - increasing downforce and therefore cornering stability and speed.
All the top drivers have been assessing the potential effect of the changes in their simulators.
Button said: "We have updates (on the car) for this race which will hopefully help us and we have the difference in the blown diffuser - that might help us or it might not but the main thing is that we have done a lot of preparation for this race.
"Preparation is key and hopefully that will show when we get out there.
"It's going to be a reasonably big hit and you'll feel it everywhere.
"Not on power so much but more under braking on high-speed corners. Braking and exit from the corners will be very different.
"It's just like us driving in a slower car with less downforce."
Hamilton added: "I think the rules have made a reasonable difference.
"When you talk about the engine modes, it will be different for the Renault engines (used by Red Bull) and the likes of Ferrari.
"We'll find out just how badly affected everyone is going to be by the blown diffuser.
"It does have an effect. Particularly on corner entries, on the slow speed under braking, you have less downforce when you come off power - but we have done our best to recover that elsewhere.
"The guys have done an amazing job to bring some updates here that were meant for the next race.
"I hope we'll be competitive and hope that we'll definitely be ahead of the Ferraris, but we'll have to wait and see."
Hamilton again denied any suggestions he was considering leaving McLaren and insisted that he could still win this year's championship.
"People need to realise that I am not reading any of the papers, I'm not discussing with anyone else, I'm focused on trying to win this championship and trying to make this car, with my team, number one," he said.
"I want to get that number one on the car. I still feel, truly, that we can win this championship. It's been done in the past. Maybe you think I'm crazy, but you've got to have that feeling, otherwise there is no point in being here."
Scot Paul di Resta is the third British driver on the grid, racing for the midfield Force India team in his first season in F1.
The 26-year-old said he was looking forward to what he described as the "biggest race of his career".