Michael Schumacher to race on in Formula 1 in 2012
By Andrew Benson
BBC Sport at Silverstone
Last updated on .From the section Formula 1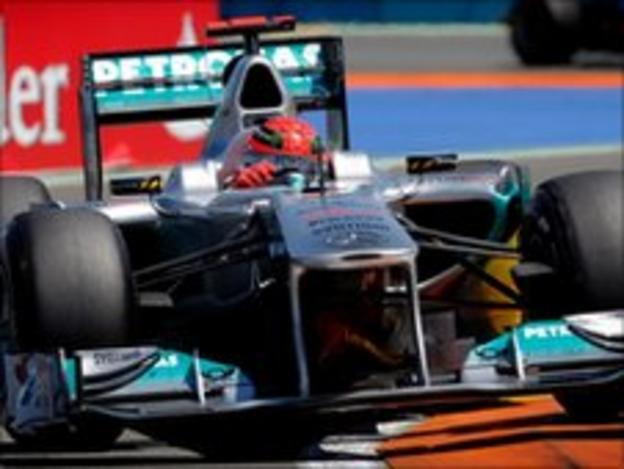 Michael Schumacher has confirmed he will race on next season into the third year of his comeback.
Mercedes team boss Ross Brawn told BBC Sport two weeks ago that the German legend had a contractual option to leave the team after this season.
Asked whether he would stay on in 2012, he said: "Was it ever a question?"
The 42-year-old added: "I am here for an achievement and a fixed target. I always said it was a three-year programme and that's what it is."
Schumacher struggled last season compared to team-mate Nico Rosberg, who out-qualified the seven-time champion in 15 of the 19 races and scored about twice as many points.
But the two have been more evenly matched this year and Schumacher narrowly missed out on a first podium of his return after an impressive performance in the wet at the Canadian Grand Prix.
Schumacher said he was pleased with his progress so far.
"I feel good," he said on Thursday ahead of the British Grand Prix. "You always improve.
"In all my first 16 years I always felt I had improved, maybe in smaller rates than you do initially.
"Naturally I took a while to get back into the habit of the whole working arrangement. That is a lot more easy for me now, but I am still learning how to work with the team and to get the car to work for me.
"I am still not yet at 100%, but you might say you will never be."