Red Bull driver Mark Webber targets first win of 2011
By Sarah Holt
BBC Sport at Silverstone
Last updated on .From the section Formula 1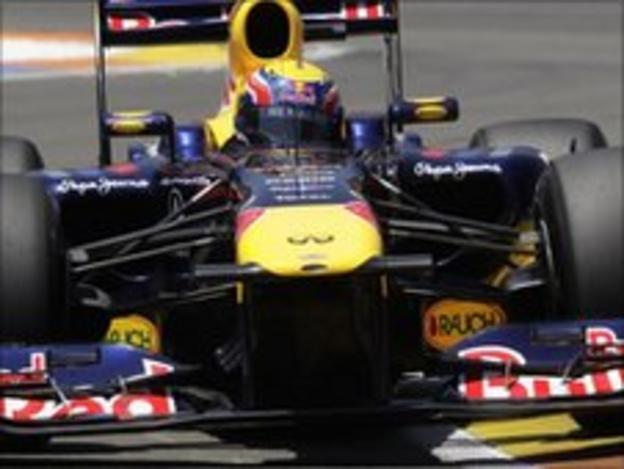 Red Bull's Mark Webber is confident he can claim his first win of 2011 at Sunday's British Grand Prix.
The Australian is 77 points behind his team-mate Sebastian Vettel but is hopeful he can ignite his title charge on the track where he won last year.
"Off the back of strong weekends in Canada and Valencia, I'm looking forward to challenging hard for the victory," said Webber.
"No reason why I can't. I'll do all I can to do it. Feeling confident."
Webber has struggled to come to terms with the new Pirelli tyres used in Formula 1 this year and has also suffered from reliability problems with the team's Kers power-boost system.
Vettel, though, has had no such problems, cashing in with six wins and two second places in the first eight races of the year.
The German has only been beaten by McLaren drivers Lewis Hamilton and Jenson Button, who have each won one race.
But Webber, 34, is determined to challenge his team-mate on equal terms this weekend.
"We have been very close in the last few events," added Webber, "We're set well."
Red Bull team boss Christian Horner called the last Grand Prix in Valencia Webber's best race of the season even though Ferrari's Fernando Alonso pipped him to second place behind Vettel.
Vettel said that while he was looking forward to Silverstone, his preparations wouldn't be out of the ordinary.
He said: "In all the races that we had so far we've always had the chance to fight each other and the rest, so I don't think this race will be different to others.
"This is a fun track - Mark enjoys coming here and he won last year and I won the year before.
"We try to do our best and beat the others. Nothing changes just because we are in Silverstone."
Webber and McLaren driver Jenson Button are tied on points behind Vettel, though the Englishman is classified in second place because he has won a race and Webber's best finish is second.
Ferrari driver Fernando Alonso is 99 points adrift of Vettel in the Championship, 10 points behind McLaren's Lewis Hamilton.
Alonso hopes Silverstone will see a turnaround in Ferrari's fortunes but the Spaniard conceded that he may now have to rely on Vettel making mistakes if he is to salvage any hopes of closing in on a third world title.
"We need some mistakes from Sebastian to recover the gap," said Alonso. "Without any retirement or any problem from Vettel it is difficult to recover the gap that we have now.
"We need to concentrate on our races, to win every race - even if we know it's difficult. We need some help."