Mark Webber column

By Mark Webber
Red Bull driver and BBC Sport columnist
Last updated on .From the section Formula 1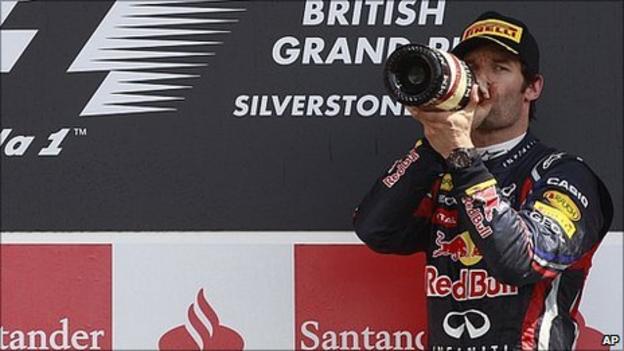 Welcome to the second of my columns for the BBC Sport website, where I will be discussing Formula 1 and other issues across the world of sport.
I chose to race as hard and as fair as I thought was possible, trying my best to beat Seb. I got pretty close a couple of times but couldn't quite pull it off.
It was obviously a difficult situation, but I still feel comfortable about what I did.
In that situation, you are hit by conflicting emotions. You want to improve your position irrespective of who it is in front of you - especially when it is someone at Sebastian's level, whom you have to work pretty hard to get back on to.
To manage it but then be told to hold position is something I wasn't prepared to follow at the time. If I'd backed off and held the gap at three seconds, as I was asked to do, it would have been much more difficult for me to sleep after the race.
At the same time, I knew I was going against the team's wishes.
Normally, if you are racing and trying to gain a position, you would imagine everyone would be happy with that.
They weren't, obviously - not because they didn't want me to finish second; they just didn't want us to have contact.
From a team's perspective, it is obviously their worst nightmare.
It's a sensational problem having two competitive drivers but after so many people have put in so much effort in the build-up, they don't want to have one or both cars out of the race. That's where they're coming from.
Having said that, if they were worried about the team losing points, one option would have been for us to swap positions, given that I was a fair bit faster at that stage of the race and was putting a lot of pressure on.
But I'm not a massive fan of that and I know Red Bull Racing isn't either. To my way of thinking, the ball's as much in Seb's court as it is in mine in such situations.
We should be free to race but to keep the team's best interests in the back of our minds, which I'm sure would have been the case anyway.
What made it difficult for me to accept was that it happened so close to the end of the race.
Over the years in F1, we have seen a number of situations when a team has asked one driver to let another by to ensure both their strategies work, for example.
Earlier in the race, there is still plenty to go on, and you are helping a guy who at that point of the race is quicker because of strategy or whatever.
But when you are coming to the line and you've only got five laps to go, there is no more strategy to be played out. It's just a straight fight.
In that case, any driver is going to be a little bit less inclined to accept a request like that, because they know that is what the result is going to be.
Christian [Horner, Red Bull's team principal] and I had a chat about the situation after the race. We both put our cases forward and I think we came away seeing it from both perspectives.
I'm sure you'll be wondering if it will make any difference to my decision about what I do in 2012, whether I carry on racing with Red Bull or not.
The team and I have time to make that decision. We're talking about continuing at the moment and it's positive, and what happened on Sunday does not turn my world upside down.
Putting that aside, it was a positive weekend for me and that gives me a lot of optimism about the rest of the season.
The trend has definitely been going the right way for me in terms of performance over the past few races and I'm getting much more out of the car on Sundays.
Earlier in the year that, combined with some reliability issues, wasn't the case. My engineers were very pleased with that - we have definitely made a step forward.
ON THE MARK
The other big sporting event of the weekend was the continuing Tour de France. I love my cycling, and the Tour is such an awesome sporting challenge.
This year, the amount of crashes has been unbelievable, and the big story is how many of the leading guys have been injured.
A couple of media cars have taken some riders out, which is always pretty embarrassing. To go to all that effort and get cleaned out by an event car is about as rough as it gets.
The race has been about the sprinters so far, but it is the mountain stages where the general classification takes shape and the race is generally won and lost.
I've been fortunate enough to have been to some Tour de France stages in the past and the atmosphere at the mountain-top finshes is awesome.
This is obviously a key section of the race for the competitors fighting for overall victory in the general classification.
It's amazing to watch how much of a fine line it is for them as this is not a place you want to be running into trouble with your form. There's nowhere to hide and you can lose a lot of time trying to finish that particular stage.
It'll be interesting to see how the battle between Cadel Evans, Alberto Contador and the Schleck brothers develops, as only the big boys survive in the mountains.
The mountain stages actually start on Thursday, which is Bastille Day, with the mountain-top finish at Luz-Ardiden in the Pyrenees. It's well worth watching it if you get the chance.
OFF THE MARK
Before every grand prix, the drivers do a parade around the circuit to give the fans a chance to get a bit of a closer look at us. We were all saying on Sunday that Silverstone blew all the other grands prix so far this year away in terms of atmosphere.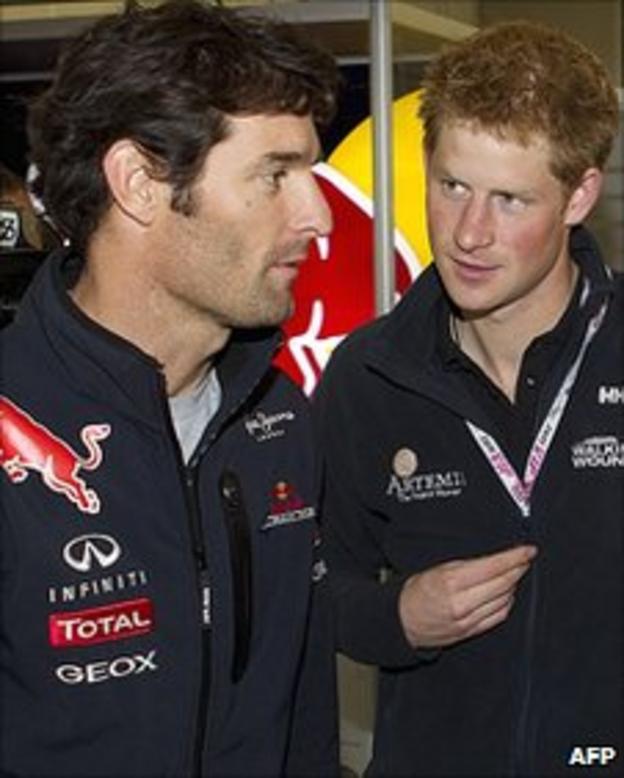 Coming around into the section at Stowe and Club, which is the end of the lap now, it was absolutely packed. I did the driver parade lap with my fellow Aussie Daniel Ricciardo. It was his first grand prix, and he was like, "Wow, this is pretty impressive."
When I went up to the launch of the new Silverstone pit complex earlier in the year, I suggested to the BRDC that it might be a nice idea if we could open the gates after the race to allow the fans to access the track and come underneath the podium to join in the champagne celebrations and national anthems.
It's nice to see that it happened and the fans felt a part of it.
I actually flew into the track in a helicopter every day over the weekend. I'm really enjoying learning to fly and I was just trying to get my hours up a bit.
It was very convenient to beat the traffic that way and what a venue to go in and out of in the air. There's such a sensational view and we took some video from up there.
WEBBER UNSPUN
Prince Harry was at the British Grand Prix. He came to see us at Red Bull and we had a good chat in the garage, about Walking with the Wounded and Help for Heroes and some of the special guys we've met there.
He also presented the prizes on the podium. You may have seen me have a little word with him up there and wondered what I was saying.
I thought I'd give him a little heads-up before Fernando Alonso, Seb and I started spraying the Champagne. I said: "You need to get out of here now, mate, if you don't want to get wet." And he said: "Cheers, mate."
He's a good guy.
Mark was talking to BBC Sport's Andrew Benson. His exclusive column can be read every Thursday.