Williams team and designer sued by leading Nascar team
By Andrew Benson
BBC Sport
Last updated on .From the section Formula 1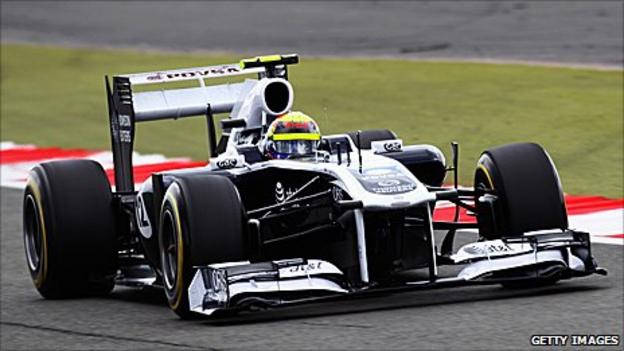 Williams and their new chief engineer Mike Coughlan are being sued by Nascar team Michael Waltrip Racing (MWR).
Englishman Coughlan, a former Ferrari and McLaren designer, joined Williams in May as part of a reshuffle aimed at returning them to competitiveness.
MWR, a high-profile contender in the USA's biggest form of motorsport, told BBC Sport they wanted compensation for breach of contract.
Williams said they had received no notification of any action.
"Williams F1 is aware of reports that a lawsuit has been filed by Michael Waltrip Racing against the team and Mike Coughlan," a spokeswoman said.
"Neither Mike nor the team have received notice of any proceedings, or indeed have had any contact with Michael Waltrip Racing since early June.
"Consequently we have no further comment to make on this matter."
MWR are seeking damages from Williams and Coughlan, including all costs, following the breach of a contract it says lasted until the end of November 2012.
Coughlan was employed as director of vehicle design by the team in October last year but quit in April to join Williams.
The legal papers, which have been seen by BBC Sport, say Williams "completely disregarded" the contract between Coughlan and MWR, and state that MWR have been "severely harmed" by their actions.
They add: "As a result of Coughlan's premature departure, MWR will face and incur many certain and insubstantial damages, including costs for searching, recruiting, negotiating with, hiring and training a replacement for Coughlan, not to mention the expenses MWR devoted to Coughlan's employment, the benefits of which will go unrealised.
"MWR could and likely will face additional and reasonably foreseeable indeterminate damages, including the loss of prize money or sponsorship support as a result of under-performing cars, etc."
The development is an inauspicious start to Coughlan's career at Williams, who he joined after a period away from Formula 1 following his central role in 2007's 'spy-gate' scandal.
Coughlan, then McLaren's chief designer, was found in possession of nearly 800 pages of confidential Ferrari technical information.
The scandal led to McLaren being fined $100m and thrown out of that year's constructors' championship.
Coughlan has apologised for his role in 'spy-gate' since he joined Williams, saying he "sincerely regrets" his behaviour and hopes to "win back everyone's respect" in F1.