Mark Webber column

By Mark Webber
Red Bull driver and BBC Sport columnist
Last updated on .From the section Formula 1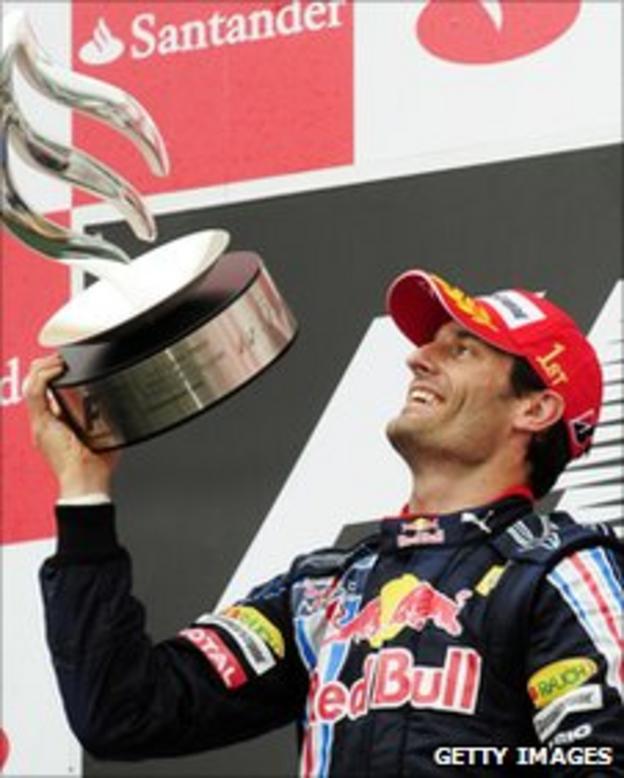 There are a key couple of Formula 1 races coming up over the next two weekends, starting with the German Grand Prix on Sunday.
Irrespective of how good it looks for my team-mate Sebastian Vettel in the drivers' championship and Red Bull in the constructors' battle, you still do not like being beaten.
So it was not a particularly nice feeling on Sunday night at Silverstone - everyone put in their best effort and we got done. Ferrari and Fernando were very, very competitive there.
We have seen a trend this season whereby they are a lot closer to us in the race than they are in qualifying, where they had been struggling a bit. At Silverstone, Fernando was close to our pace in qualifying for the first time really and then they beat us fair and square in the race.
Fernando's a wise old fox and he will definitely be a force in the next two races. I remember racing him back in Formula 3000 at the Hungaroring, which hosts the Hungarian Grand Prix the week after Germany, and he has always been very, very fast there. He is not too dusty around the Nurburgring either.
McLaren have struggled a bit in the last two races but it is not so long since Jenson Button's very special drive in the wet in Canada. You never underestimate McLaren. You never know when they will come back.
If they do this weekend, we have got to see whether they can do it for five or six races, which Ferrari are starting to show signs they might be able to do.
The exciting thing for us is trying to bat that off and for them it is trying to hold it together. That is what competition at this level is all about.
The German Grand Prix alternates between two very different tracks and it is the Nurburgring's turn this year. I much prefer it to Hockenheim, where we raced in 2010.
It has undulations, challenging corners, track surface changes, it is not billiard-table smooth, the kerbs are different at all the corners - all of which gives you something to get your teeth into as a driver.
As always, you do not get the full impression on TV but probably the best bit is Turns Eight and Nine, a fast uphill chicane that we take flat out in a competitive car.
That is also the direction I remember the famously unpredictable Nurburgring weather generally coming from.
The forecast looks pretty hit and miss for the weekend and that is completely normal there because of where the track is located - high up in the Eifel mountains. You never know whether you are going to get rain, sunshine, hail or even snow. Or even all four sometimes!
On top of all that, it has some special memories for me because I won my first grand prix there the last time we raced on it in 2009. I am looking forward to a good weekend.
ON THE MARK
It was MotoGP's German Grand Prix last weekend and I cannot help being impressed by Yamaha's Jorge Lorenzo, who lost out on a win at the last corner to Honda's Dani Pedrosa.
They are all great riders but what Lorenzo has gone through in the last few years to win the title when he was team-mate to Valentino Rossi was something really special. Rossi's probably the best ever on two wheels but Lorenzo is a great operator and it is interesting to watch him take on the Hondas this year.
It is just a shame Rossi is not yet able to mix it with him and the Honda guys like Casey Stoner now the Italian has moved to Ducati.
OFF THE MARK
I cannot sit down and watch five hours of golf - it is not my thing - but I have got a massive amount of respect for the top guys in that sport.
Talk about the top two inches - if the old brain is not working, you are going to be struggling out there on the links. So I have got to take my hat off to Darren Clarke after his win in the Open, at his 20th attempt.
Perseverance is a sensational quality in any sportsman. Clarke's had Tiger Woods in his prime to worry about for a lot of his career and he has had some brutal adversity in the last few years, losing his wife to cancer.
But he has come back, found a way to move forward and be positive and what he has just done is incredibly special. His wife would have been proud of him on Sunday, that is for sure.
WEBBER UNSPUN
As you will know if you read my first two columns, I had a busy three weeks leading up to the British Grand Prix but it has been much quieter since then and I have enjoyed some down time.
We launched my Tasmania adventure race at an event in London last week and roped in my old friend Richard Ussher and his wife Elina, who competed in the race a few years ago and smashed everyone to smithereens.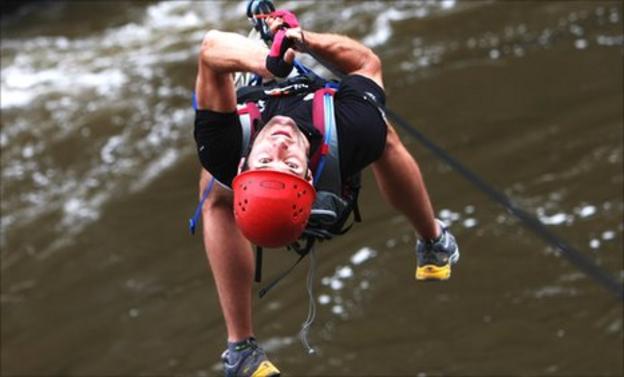 Talk about an unsung hero. Richard is virtually unknown but he is an incredible all-round athlete.
I am pleased we have brought the Challenge back as it provides the perfect escape to get among the elements and enjoy some of the most dramatic land and seascapes in the world.
It is a good test of physical and mental toughness, too. It hasn't been on since 2008, when I broke my leg, but that was not the reason for not continuing with it.
It had come to the end of its planned three-year run so we decided to take a breather. But it was not long before everyone realised how much we missed it, so we have got everyone together again for another three years.
This year's race takes place across 350km (217.5 miles) of Tasmania's wilderness between 7-11 December and will include mountain biking, kayaking, orienteering and trekking, as well as some mystery disciplines, which in the past have included rope work, coasteering and ocean swims to random check points.
I have also been involved recently in an auction organised by Sam Michael - technical director of Williams, who I drove for a few years back - to help raise funds for a former world-class Speedway rider called Leigh Adams.
Leigh retired home to Australia earlier this year to spend time with his family but suffered severe spinal injuries while practising for a desert race in the Northern Territory.
The auction ends this weekend and it is good to see the two and four-wheel communities coming together to help one of the good guys of motorsport.
Mark was talking to BBC Sport's Andrew Benson. His exclusive column can be read every Thursday.