Karun Chandhok replaces Jarno Trulli for German GP
By Andrew Benson
BBC Sport
Last updated on .From the section Formula 1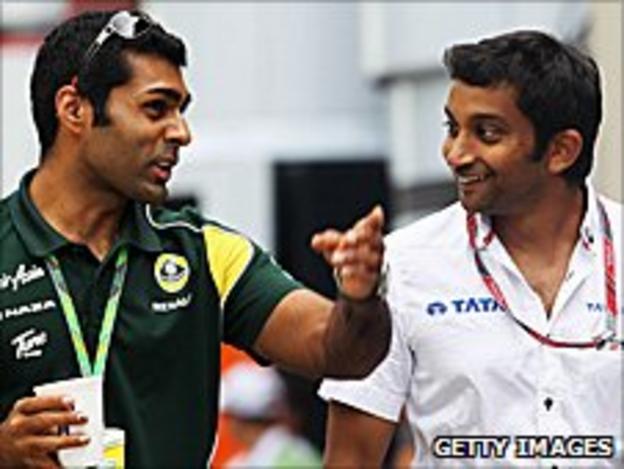 Veteran Jarno Trulli has been dropped by Team Lotus in favour of their reserve driver Karun Chandhok for this weekend's German Grand Prix.
Lotus said the aim was to give Chandhok a chance to prove himself, which was part of their agreement with him.
Trulli, who has struggled with this year's Lotus, will be back in the car for the Hungarian Grand Prix.
Lotus have a new power-steering system for the Hungary race, which they hope will help the Italian.
Trulli, 37, has complained consistently that a lack of 'feel' from the system has prevented him driving at his best in 2011.
Known as one of the sport's fastest qualifiers, Trulli has lined up behind team-mate Heikki Kovalainen in eight of the nine races so far this year.
Last year, Trulli out-qualified the Finn 11 times to eight.
Trulli is likely to consider Lotus's decision to leave him out for the race at the Nurburgring as a message that he needs to up his game to retain his drive.
However, Team Lotus boss Tony Fernandes revealed in a statement that he wants to keep Trulli on the staff.
"I am delighted to confirm that we are in the process of negotiating an extension to his contract with us and we are all looking forward to unveiling the details of that very soon.
"He is a key member of our team and I hope that we can give him a car as soon as possible that allows him to utilise his very large talents to the full.
"For this weekend he will be on hand to lend his considerable experience and support to Karun and I am sure Jarno, Heikki and Karun will do me, the whole team and all our fans very proud indeed."
Trulli said he was "looking forward to working with Karun this weekend and doing whatever I can to help him get the most out of his opportunity in Germany".
He added: "It's great that the team is true to its word of helping develop young talent, particularly from parts of the word where it is even harder to break through into the top rung of motorsport, so I'll be there to give him guidance and assistance, in and out of the car."
Regardless of Trulli's performance when he returns to the car, it is considered likely that Chandhok, 27, will race at the inaugural Indian Grand Prix in October.
Sunday's German race will be Chandhok's first in F1 since the British Grand Prix last year, after which he was dropped by the Hispania team in favour of Japanese Sakon Yamamoto.
Chandhok has taken part in the first practice session for Lotus at this year's Australian, Turkish, European and British Grands Prix, although he crashed out of the one at the opening race of the season in Melbourne without completing a lap.
He said: "I want to thank Tony Fernandes, Kamarudin Meranun and SM Nasarudin for giving me the chance to race this weekend for Team Lotus.
"Ever since I first joined the team I have been looking forward to this opportunity and I am determined to do my best to repay their faith in me.
"I am approaching the weekend in a very realistic frame of mind. I will be doing my best to push and to make sure I learn as much as possible.
"I know there will be millions of Indian fans, and Team Lotus fans around the world, who will be behind me and the whole team, so I will do the best I can to give them something to cheer for."
Chandhok will be the only Indian on the grid this weekend, following the Hispania team's decision to replace Narain Karthikeyan with Red Bull protege Daniel Ricciardo from the British Grand Prix.
But Karthikeyan is expected to return for Hispania for his home race, meaning there are set to be two Indians in F1 at the country's debut on the calendar.