Timo Glock signs new 'long-term contract with Virgin
By Sarah Holt
BBC Sport at the Nurburgring
Last updated on .From the section Formula 1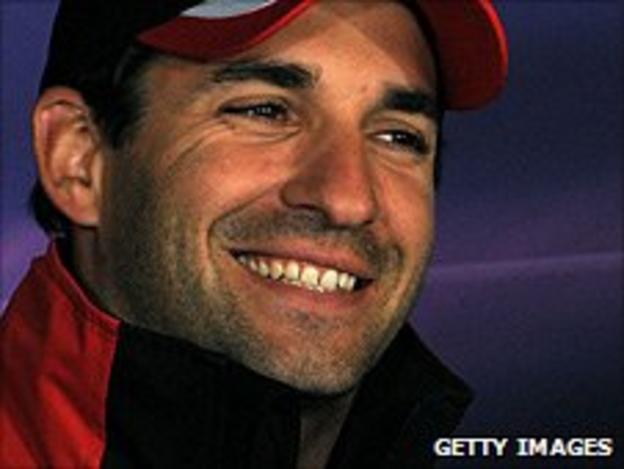 Timo Glock has signed a contract extension to stay with Virgin Racing.
The German, 29, joined the struggling team for their debut 2010 season and believes they are on an upward trend.
"It was an easy decision to make," Glock said. "The team has showed commitment for the future and the possibilities are positive."
The length of Glock's contract is unclear. It is believed to run until 2014, but he refused to confirm that when talking to BBC Sport.
That was despite saying on his Twitter feed earlier on Sunday that he was "on the team for the next three years".
Virgin said only that the contract was "long-term".
The team said they were in talks with Belgian Jerome D'Ambrosio, who joined the team this year.
Earlier this month, Virgin agreed a technical partnership with McLaren aimed at helping the fledging Virgin team move up the grid.
Virgin will have access to McLaren's facilities including their driver simulator, test rigs and wind tunnel.
Glock, who has been linked with a move to several midfield teams since joining Virgin, said the agreement with McLaren was a decisive factor in his decision to stay.
"I have put so much pressure on these guys and this is a clear step," said Glock, who won three podiums for the former Toyota F1 team.
"We have to find a way to be in the midfield and fighting regularly in Q2 [the second phase of qualifying]. That's our goal and we have to reach it."
Virgin Racing team principal John Booth added: "Timo has been through some tough times with the team.
"He's agreed to join us for the future on a long-term contract and that's very important for us."
The Russian sportscar maker Marussia Motors bought a controlling interest in the team late last year and the team's target is to win their first podium at the inaugural Russian Grand Prix in 2014.
Glock and his Belgian team-mate D'Ambrosio took part in a demonstration run through the Black Sea resort last weekend.