Paul di Resta seeks apology from Renault's Nick Heidfeld
Last updated on .From the section Formula 1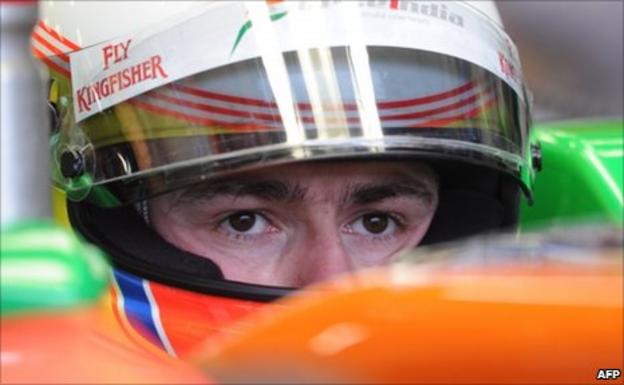 Paul di Resta has admitted that he is disappointed not to have received an apology from Renault's Nick Heidfeld.
German Heidfeld crashed into the back of the Scot's Force India on the first lap of Sunday's race in Germany before Di Resta recovered to finish 13th.
Di Resta said: "He's not apologised, he's not spoken to me, and it was pretty blatant."
Heidfeld said: "Why should I go and apologise? It was just a racing incident. Life goes on."
Heidfeld was given a drive-through penalty at the Nurburgring for driving into the back of Di Resta, although was unable to serve it as he had crashed out of the race moments beforehand in another incident.
The duo were apreviously involved in a collision at the Canadian Grand Prix on 12 June, when Di Resta tried to overtake and Heidfeld defended his position.
Heidfeld emerged unscathed but Di Resta needed a new front wing and was also given a drive-though penalty for causing the incident.
"The thing in Canada never cost him anything, and then he ran into the back of me and took me out of the race in Germany," Di Resta added.
"I lost more out of it than he did. He was the one that committed the crime."
When asked whether he has apologised in the past for when he has been at fault, Di Resta replied: "You've got to, haven't you?
"You've got to go up and say that. It's only right you do it, but whether they accept it or not is another thing.
"But you at least make the effort."
Heidfeld commented: "You have to live with what you get in terms of what the stewards decide.
"It was a racing incident. I'm OK with them penalising me, and so there is no special reason why I've not said anything to him.