Bruno Senna could stay at Renault in place of Nick Heidfeld
By Andrew Benson
BBC Sport at Spa-Francorchamps
Last updated on .From the section Formula 1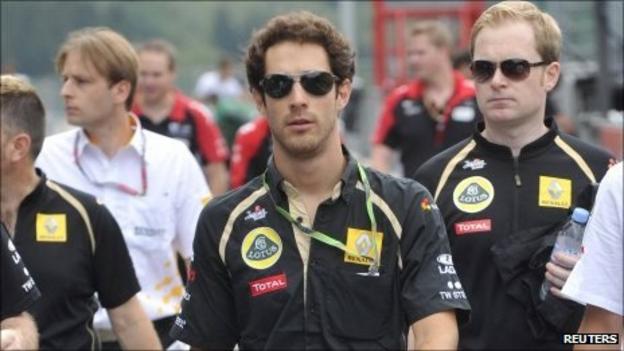 Bruno Senna is setting himself a realistic target for his debut with Renault at the Belgian Grand Prix.
Renault have dropped Nick Heidfeld, who had raced since the start of the year in place of the injured Robert Kubica.
Senna, 27, said: "It's an uphill battle to get to the level of the guys who've been racing for 11 races.
"I am confirmed this race and the next, but there are some legal issues to be resolved before we can confirm I will do the rest of the year."
Renault said it was their intention for Senna to race for the rest of the season and the team intend to make a further statement once the legal matters have been resolved.
Heidfeld confirmed he was pursuing legal action as he has a contract with Renault as their "main driver".
He added: "We have court proceedings pending. I can't tell you a lot. The main hearing will be in about three weeks and we will have a decision then. My position is that I have a valid contract and I want to drive."
Senna, the nephew of late Brazilian legend Ayrton, raced last season for the struggling new team HRT.
As Renault reserve, he took part in Friday practice in Hungary and also drove the team's 2009 car at a private test in Spain during the August break.
Senna added: "If I can be near (team-mate Vitaly) Petrov, that would be a good reference.
"I've been participating with all the meetings with the engineers. The Friday in Hungary was very useful for me to get a good feeling for the car but it was also very tough because I only had one set of tyres.
"I will be having to learn how to deal with the tyres from the first set to qualifying, and learning how to deal with them in the race. All this experience that I don't have will be first time.
"But the fact it is at Spa, where I have always had good results, I'm pleased about."
BBC Sport understands Renault gave a seat fitting to GP2 championship leader Romain Grosjean on Tuesday, and there are rumours the Swiss could also be given a chance this season.
Renault are believed to be planning to assess the two men's potential given the chance that Kubica, who suffered serious injuries in a rallying accident in February, may not be fit to return next year.
Grosjean raced for Renault in the final seven races of 2009 after the Brazilian Nelson Piquet was dropped, but he was overshadowed by then team leader Fernando Alonso.
Grosjean is also believed to be under consideration by Williams, in case veteran Brazilian Rubens Barrichello does not continue with the team.
Renault made a promising start to the 2011 season but their form has slipped amid rumours of funding shortages, which the team have denied.
Senna made his debut for HRT last season but left the team after a trying year with the struggling outfit having failed to score a point.