Lewis Hamilton looks to raise his game at Belgian Grand Prix
By Andrew Benson
BBC Sport at Spa-Francorchamps
Last updated on .From the section Formula 1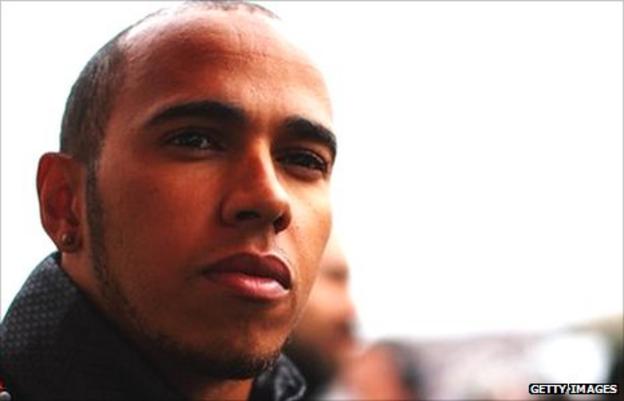 McLaren's Lewis Hamilton says he is looking to raise his game at the Belgian Grand Prix after admitting he did not perform at his best in the last race.
Hamilton was fourth in Hungary as team-mate Jenson Button won, and is 88 points behind championship leader Sebastian Vettel.
"I'm not thinking about the championship because it can get very upsetting. I'm not going to bother with it," Hamilton said.
"What will be will be. What's important is I drive the best I've ever driven."
Hamilton led for a significant part of the race in Hungary, but dropped behind Button and then further back after making incorrect tyre choices.
He said: "I wasn't at the top of my game in the last race, and I want to make sure I'm at my best and the team are working towards being at their best so we can destroy the field."
Hamilton won last year's Belgian Grand Prix with one of the best drives of his career, but said any of the top three teams - McLaren, Ferrari and Vettel's Red Bull - could win this weekend.
"Any of the top six can win. In terms of an era, it could still be the case for the next year or so that [Red Bull] dominate early on and we have to catch them up.
"I definitely feel all the teams have caught up. We are able to compete. They have not won a race since Valencia. They are not unstoppable.
"We have generally gone quite well here and we should be very competitive this weekend and also for the next one."
Vettel built a massive championship lead by winning five of the first seven races, but he has not won since the European Grand Prix in June.
With eight races remaining, the German still has a huge 85-point lead over team-mate Mark Webber.
Hamilton is three points adrift of the Australian, Ferrari's Fernando Alonso the same distance behind Webber, and Button exactly 100 points - four clear race wins - off the lead.
But the last three races have been won by Alonso, Hamilton and Button, and that has given Vettel's rivals hope that the German could still be beaten.
Button admits winning the title is a "long shot".
"I'm 100 points behind. It's going to be very difficult," he said.
But he added: "I was watching [the 2010 season finale in] Abu Dhabi the other day and Sebastian won the championship when he was 15 points behind - in one race. So it definitely can be done.
"We have to be strong every race and beat Sebastian in every race, but it's definitely possible.
"It's a long shot but we're going to fight all the way to the end."
Button was optimistic about McLaren's chances of beating Red Bull at Spa, a track not expected to favour the characteristics of the championship leaders' car.
"We're in good shape. I don't think we have an advantage over the Red Bulls, but if we call our strategy right, we've got a very good chance of winning. But we need to have. Red Bull don't need to win."
Fourth-placed Alonso added: "We will not give up. We will try to win every race.
"When there are four or five races remaining, if we have the possibility we will try to get it. If at that time it is already impossible, it will be time to give up, but not now with the amount of points there are on the table."