Nick Heidfeld confident of racing return with Renault
Last updated on .From the section Formula 1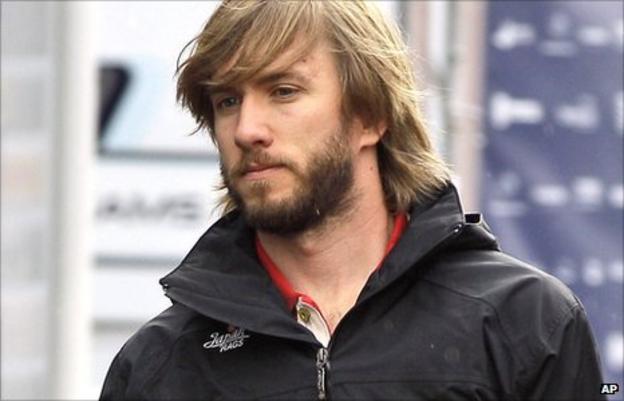 Nick Heidfeld has told BBC Sport that he is confident he can get his Renault drive back after starting legal action.
Bruno Senna has replaced the German for this weekend's Belgian Grand Prix.
Asked whether he was confident he would return in Singapore in two races' time, Heidfeld said: "If we were not confident that we have a case here, we wouldn't follow it up."
Heidfeld believes he has a deal as lead Renault driver after being drafted in in place of injured Robert Kubica.
"I cannot be very specific as something is pending," added Heidfeld. "It's disappointing not be here as a race driver but that is the situation at the moment and I have to live with that.
"I have a good feeling inside the team. People like me. I've worked with the team for over a year and always enjoyed working with them."
On Thursday, Renault said it was their intention for Senna, who was the team's reserve driver before stepping into the race seat this weekend, to race for the rest of the season.
But Renault team boss Eric Boullier said Heidfeld's legal proceedings could change that, even though Heidfeld lost an injunction on Wednesday.
"Because there is now another hearing, after that anything is possible," said Boullier.
"Nick is a nice guy, but leadership didn't work. When you are slower than Vitaly [Petrov] most of the time, it's difficult for him to push the team and set up himself as team leader.
"When you have a negative spiral, it's complicated to stop it, so I had to change something within the team, something with the drivers to shake up and wake up everybody."
Renault plan to make another statement once the legal matters have been resolved with legal proceedings due to take place before the Singapore Grand Prix.
Heidfeld, who has scored more points than Petrov this season, confirmed that he was pursuing legal action as he has a contract with the team as their "main driver".
When asked whether he had spoken to Senna following the decision, Heidfeld said: "Of course. There are no problems between us."
New of Heidfeld's removal from the race seat first broke on Monday but the German refused to comment on when or how he was told that he would not be racing at Spa-Francorchamps.
Boullier added that he does not expect his number one driver Kubica to be fit enough to return to his race seat this season.
"He has another surgery to go through, so we have to wait until he is fully recovered," he added.