Bruno Senna proud of qualifying seventh for Belgian GP
By Andrew Benson
BBC Sport at Spa-Francorchamps
Last updated on .From the section Formula 1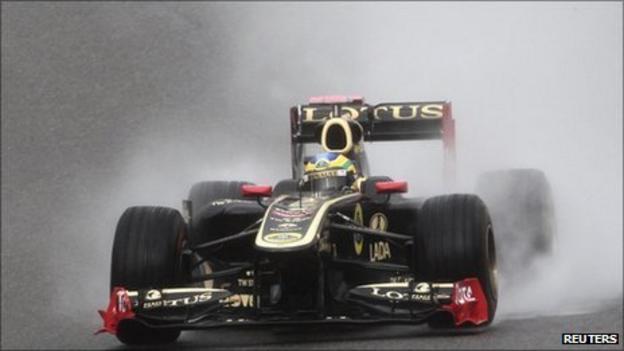 Bruno Senna said he felt he had done justice to his family name after qualifying a superb seventh on his debut for the Renault team.
The 27-year-old Brazilian, nephew of the legendary Ayrton Senna, beat team-mate Vitaly Petrov by more than one second at the Belgian Grand Prix.
"My mum is very happy, my grandparents are very happy, so I guess I made the Senna name proud," he said.
Bruno's mother Viviane is Ayrton Senna's sister.
Senna has been drafted in for this race and the subsequent Italian Grand Prix after the team dropped veteran German Nick Heidfeld because team boss Eric Boullier felt his performance were not up to scratch.
Heidfeld has launched legal action to try to retain the season, but Senna is expected to see out the final eight races.
He arrived at Spa with only one session's experience of the Renault car, gleaned at the Hungarian Grand Prix at the end of July before the mid-season break.
But he has been consistently impressive all weekend, culminating in a highly accomplished performance in difficult mixed conditions in qualifying.
Senna admitted that his result was "a lot better" than he had thought possible.
He added: "I didn't know what to expect, to be honest.
"This morning after being P9 in the wet and it was straightforward conditions with everyone (except the Ferraris) going out and doing laps, I was confident that in the wet we could do a good job.
"When the conditions were changing for qualifying and the forecast was going maybe for dry, I got a bit more nervous, because I knew from yesterday I knew it was very difficult for me in the drying conditions.
"But just getting into Q3 was a massive, massive victory for me and then I knew I could push, especially on the last few laps, as I had not much to lose to be honest in that situation.
"I didn't want to go off and crash, so in that sense I wasn't pushing 100% but I was pushing where I knew I could push and get away with, maybe outbraking myself. And I think where other people made mistakes, I didn't."
Senna admitted that he was flattered by the 1.182 second margin between himself and Petrov because the Russian had made an error.
Petrov spun and damaged his tyres, but Senna's time would have been even faster if he had not forgotten to use his DRS overtaking device, which boosts straightline speed, down the long Kemmel straight after Eau Rouge.
That, according to Renault's chief engineer Alan Permane, would have cost him "a few 10ths".
"Of course it's great to outqualify your team-mate," said Senna.
"Vitaly unfortunately made a mistake. I would like to have seen more of a comparison against him.
"For sure tomorrow he has the upper hand on me in terms of race experience especially if it is dry.
"But in terms of expectations everything has been going pretty well and tomorrow is another learning curve and I intend to take it step-by-step."
He said a points finish in the top 10 in the race would be a "dream come true".
He added: "It was obviously a very good start, but these were very difficult conditions and I seem to adapt very quickly to these conditions fortunately.
"But there is still lots to prove. I want to be consistently good, and I if I can be there I will make my career."