Formula 1: Is the real Michael Schumacher back?
By Mark Hughes
BBC F1 commentary box producer
Last updated on .From the section Formula 1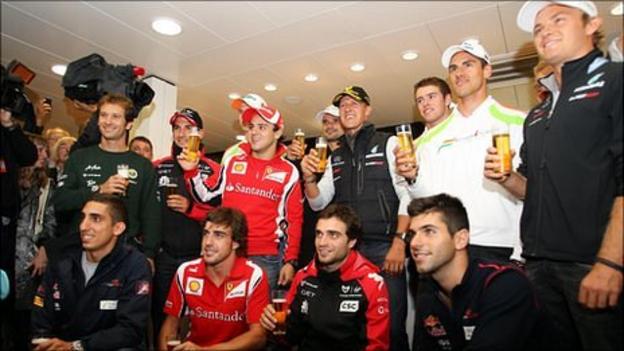 There was a fairytale logic to Michael Schumacher's Belgian Grand Prix on the 20th anniversary of his debut in Formula 1.
Schumacher made an impressive charge from last on the grid to fifth at the end, overtaking his Mercedes team-mate Nico Rosberg, 18 years his junior, along the way.
So is this the breakthrough of his comeback, a sign that he is at last approaching the levels he routinely reached in his first career?
Unfortunately, there was nothing to definitively suggest that.
It was almost impossible to compare Schumacher's performance with Rosberg's; their race strategies were entirely different, Rosberg two-stopping, Schumacher three.
Yes, Schumacher was able to overtake, but on faster soft tyres.
Mercedes team boss Ross Brawn said: "The softs were around one second per lap faster than the mediums and that was the decisive thing that tipped it in Michael's favour. That and the earlier safety car.
"That wiped out much of Michael's earlier time deficit to the cars in front [including Rosberg], by which time he had already got his medium tyres out of the way, having started on them and then pitted after four laps."
So the seven-time world champion got to have his cake and eat it thanks to the way the race played out, the safety car gifting him an artificially created proximity to Rosberg on track but on a tyre that at the critical time was much faster.
Looking at their respective fastest laps, set at similar stages of the race, Schumacher's was 1.1 seconds faster than Rosberg's - roughly what Brawn reckoned the time difference between the two tyre types to be.
In other words, the pace of the two drivers was roughly equal and circumstances just played more kindly to Schumacher than Rosberg. Their actual performances were very similar.
But that in itself is progress.
Although for several of the last few races Schumacher has been as fast or slightly faster than Rosberg in the races, he has invariably qualified behind him and very often got himself into clumsy incidents as he tries to progress from poor grid positions.
This time, the German combined his usual opening lap charge (up from 24th to 15th) with good judgement and calm, clean passing. Even the potentially tricky situation of chasing down Force India's Adrian Sutil, while being attacked by Jenson Button's McLaren did not trigger incident.
Schumacher was perhaps aided in this by the very strong straight-line speed of his car on a circuit at which this creates a lot of passing opportunity. Whether he can deliver similar clean race-craft in tighter confines remains to be seen.
The very early laps of the first practice session on Friday, in the 10 minutes before the rain arrived, saw the two Mercedes lapping in formation, the only cars doing serious running at this time.
Schumacher was clearly enjoying himself, pushing very hard even though the track was still 'green' and pulling steadily away from Rosberg.
The car control is still very evident and in such situations that is all that is really needed to be quick. But usually as the track's grip builds up and everyone gets a finer handle on car set-up, tyre behaviour etc, then driving becomes more about finesse than raw car control.
Schumacher used to have this in spades, but too often since his comeback he has appeared to lack the fine judgement required to maximise the car and tyre.
He used to be able to find the adhesion limit and sit delicately upon it, regardless of handling and tyre traits, but second time around he more often appears to be transgressing the limit and wrestling with the consequences.
This tends to hurt more in the exercise in technical perfection that is qualifying than in the improvisation around varying traits of tyre degradation and fuel loads a driver must contend with in the race.
Schumacher was not able to demonstrate what he could do in qualifying at Spa because a detached wheel on his out-lap pitched him off the track.
But that enabled him to show off the upside of his current skill set in the race, combined with a favourable set of circumstances concerning strategy and the safety car.
Schumacher did nothing wrong all weekend and scored a great result - a Mercedes in its current state of competitiveness could not feasibly have scored better than his fifth.
But it has to be said that the circumstances of the weekend did not play out in a way that might have brought out the shortcomings of his performances.
It was a great foundation for more, but let's reserve judgement before proclaiming that the real Schumacher is back.