Mark Webber column

By Mark Webber
Red Bull driver and BBC Sport columnist
Last updated on .From the section Formula 1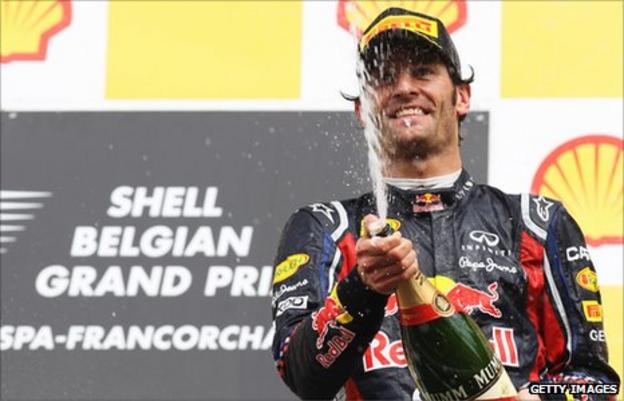 My team-mate Sebastian Vettel and I took a one-two for Red Bull Racing at the Belgian Grand Prix, but actually it was a very difficult weekend.
It turned out we had really good pace, so it might have looked easy. But we went into the race with some pretty major concerns over our tyres after they blistered in qualifying - the rules say you can't change them until after the race has started.
Seb and I have both had tyre failures in our careers and you want to do everything you can to avoid it, but at the same time not be super-conservative.
At a track like Spa, where it's high-speed and some of the run-off areas are a bit tight, it's a particularly unnerving situation.
We spent a lot of time talking about what to do. For the team, our safety is paramount, so it was not something we took lightly.
The most conservative choice is not to start the race. The next is to make changes to the cars and start from the pit lane.
After lots of calculations and discussions with the team and Pirelli, we chose to heavily compromise our strategy by pitting really early. A situation like this is extremely rare and it was pretty intense.
For us as drivers, we know it's part of the risk of the sport, and we can't always have all the answers before we go into the race. You've just got to get on with it, but it's obviously in your mind.
The first stint wasn't particularly enjoyable and I was very relieved to get rid of that first set of tyres.
If at any stage something becomes critical, that's when you don't take any short-cuts. You have to work out what to do, and perhaps even stop the cars. Thankfully, it didn't come to that.
Tyres blister when the rubber gets too hot and bubbles. It's not unusual and it's not normally a massive issue, but in this case the blisters were on the inside shoulder of the tyre, where the tread meets the sidewall, and that's when it becomes a bit more critical.
The problem was that no one could give us a definitive answer as to how long the tyres would last, or what we could do to alleviate the problem.
It's public knowledge that we were running the camber of our front wheels - the amount they lean away from vertical - on the upper limit of tyre supplier Pirelli's recommendations. But I know we're not the only team doing that.
In any case, although we could have reduced the camber, it was not absolutely clear that would fix it. We push the cars to the limit and this was just something that happened.
Because of all the tyre problems, we went into the race thinking about damage limitation rather than victory.
But we made all the right decisions as a team and it turned out we got the ultimate result. We were very surprised by that.
It wasn't the easiest race. I lost a lot of places at the start when the anti-stall kicked in, and then when the safety car came out following Lewis Hamilton's accident, I couldn't hear the team call me in for a pit stop.
It was incredibly frustrating. I was practically parked at the Bus Stop chicane, saying: "What do you want to do? What do you want to do?" And it was just silence.
Then as I was heading along the pit straight, the radio came back on again and I could hear them going through my pit-stop procedure as if I was coming in. I said: "I'm on the wrong side of the pit wall, guys!"
To come through all that and get a one-two, it's got to be one of our best races ever as a team.
ON THE MARK
After losing so many places at the start, and then making such an early stop for tyres, I needed to gain some places.
One pass was particularly enjoyable - when I got Fernando Alonso's Ferrari around the outside going into Eau Rouge.
Going down the straight, I thought: "The tow is working pretty well. I've got a bit of over-speed. It's going to be nip-and-tuck at the bottom but I'll just have a look." And when I got to the bottom I was committed to making the move work.
Although I was on the inside going into the first left-hander and therefore the outside for the right, the most important part of Eau Rouge, that pinches his trajectory. So I was in position and Fernando was a bit more compromised.
It would have got a bit marginal for him there. He had a wobble, and ran wide over the kerbs on the inside of Raidillon, the left-hander going up the hill.
You know in all those nano-seconds up to the critical moment whether you're going to come out on top or he is, and you know how hard we can push it, in terms of who has to bail out and when.
The respect between us goes without saying. There are a few guys on the grid you can enjoy something like that with. You can really take each other to the limit.
OFF THE MARK
It was a big weekend for Australia in sport with the Wallabies winning the Tri-Nations for the first time in 10 years after defeating New Zealand 25-20 in the decider.
It will give the team a massive confidence boost heading into the World Cup, which starts next weekend, and it shows everyone that the All Blacks are beatable - although beating them in New Zealand will be an entirely different prospect!
England also had a good result against Ireland so that will give them a lift after their defeat by Wales.
People often ask me on Twitter what soccer team I support.
I don't really support a particular team but I am fascinated with the role of the managers and how they deal with different scenarios and players.
I've been following the new Premier League season closely so I was amazed by the result of the Manchester United-Arsenal match.
For me, the reaction of the two managers was telling.
Sir Alex Ferguson didn't get carried away with the win. He was gracious, pointing out that Arsenal were missing a lot of first-team players, while Arsene Wenger spoke about the need to persevere and dig in.
This is what sport is all about; dealing with the highs and lows. Very often it's how you deal with the lows that sport can throw at you that will impact on the longevity of a career, no matter who you are.
WEBBER UNSPUN
We announced over the weekend that I am going to stay with Red Bull in 2012.
It might look as if it took a long time to sort out, and I was weighing up various possibilities. But in the end the contract talks were done very quickly.
I've been an integral part of Red Bull since the start and I still enjoy it there. It would have been a mistake to stop racing.
I'm still driving well. I had a bit of a slow start to this year because it took me a little while to get on top of the new tyres. I'm looking forward to taking on Seb - and everyone else - again next year.
But this year isn't over yet. There are still seven races to go, starting with Monza next weekend, and anything can still happen.
Mark Webber was talking to BBC Sport's Andrew Benson. Read his exclusive column every Thursday