Formula 1: Mark Webber will not concede title to Sebastian Vettel
Last updated on .From the section Formula 1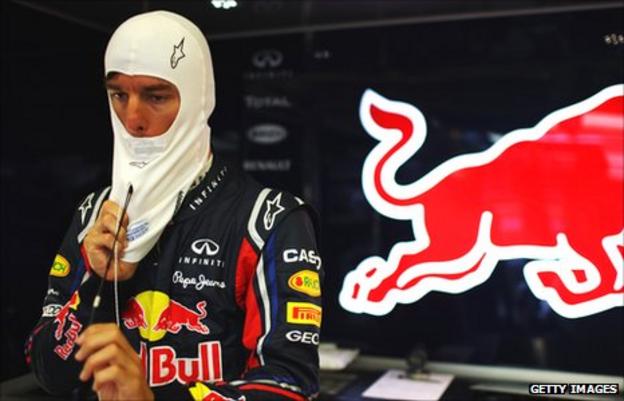 Mark Webber has refused to concede the title despite trailing Red Bull team-mate and championship leader Sebastian Vettel by 92 points.
"I'm looking forward to taking on Seb - and everyone else - again next year," said Webber in his BBC Sport column.
"But this year isn't over yet. There are still seven races to go and anything can still happen."
Webber, who has been part of the Red Bull set up since 2007, challenged for the title right up until the final race last season, but the six-time race winner has failed to win a single race in 2011.
In contrast, team-mate Vettel has won seven of the 12 races.
Webber's future has been the subject of speculation all summer but the 35-year-old said quitting the sport would have been the wrong decision.
"I've been an integral part of Red Bull since the start and I still enjoy it there," said Webber.
"It would have been a mistake to stop racing. I'm still driving well.
"I had a bit of a slow start to this year because it took me a little while to get on top of the new tyres."
And Webber, who had to weigh up offers from other teams not as competitive as the reigning champions, admitted that once he'd decided on staying with the team, the deal was completed quickly.
"It might look as if it took a long time to sort out, and I was weighing up various possibilities," he said. "But in the end the contract talks were done very quickly."
Read more of Mark Webber's exclusive column, which is published on this website every Thursday.