McLaren say driver Lewis Hamilton will learn from his mistakes
By Andrew Benson
BBC Sport
Last updated on .From the section Formula 1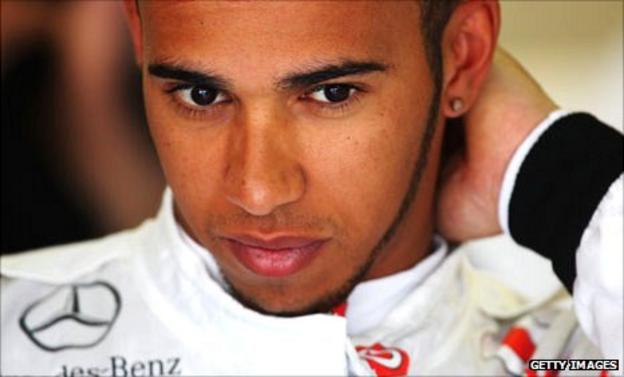 Lewis Hamilton will learn from the mistakes he has made this season and become a better driver in the future, according to his McLaren team.
McLaren principal race engineer Phil Prew said: "Lewis is a very clever guy and a very good racing driver.
"He will reflect on the difficulties he's had and come back stronger."
Hamilton is in fifth place in the championship, 113 points behind leader Sebastian Vettel of Red Bull with only 175 still available in the remaining seven races, starting with this weekend's Italian Grand Prix at Monza.
He crashed out of the Belgian race while trying to overtake Sauber's Kamui Kobayashi, later taking full responsibility for the accident.
It was the latest example of a season that has veered between brilliant wins and basic mistakes.
His victories in China and Germany were arguably the drives of the season but, in between, he has had races such as those in Monaco and Canada where he made important errors.
He has also been on the wrong end of some strategy errors by his team and appeared unsettled at times in public.
Vettel dominated the start of the season, putting himself in an almost unassailable position by winning five of the first seven races.
And Prew hinted that he felt Hamilton has been frustrated all season by not being able to mount an effective challenge for the championship.
Asked about Hamilton by BBC Sport in a McLaren phone conference, Prew said: "Lewis has had an up-and-down season.
"Lewis is a great driver who has won races this year and every year he's driven for McLaren. He's always pushing very hard.
"Obviously he came into the season with great hopes of winning the championship and that's going to be an upward struggle from here.
"Pushing hard brings some consequences of high risk. I think that's what we're seeing.
"We will not ask him to change. Lewis is Lewis. He gets results with a very charging, aggressive approach. We fully support that. We've seen it's won him championships and that's our intention."
Hamilton won the title with McLaren in 2008, having missed out by one point in his debut season the year before.
But 2011 is the third consecutive season in which he has not been able to mount an effective challenge for the championship.
Before the Belgian race, Hamilton said he expected that Red Bull would start next season with an advantage as well, albeit he thought it might be smaller than it was at the beginning of 2011.