Mark Webber column

By Mark Webber
Red Bull driver
Last updated on .From the section Formula 1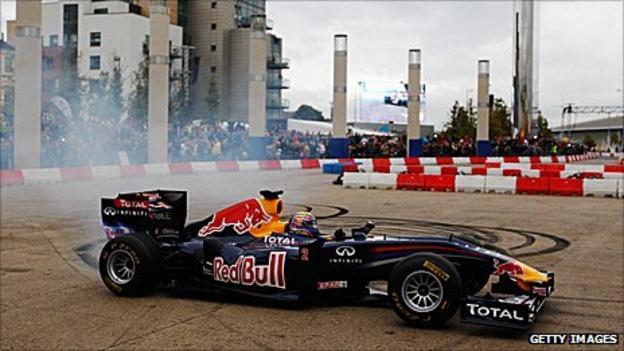 This weekend's Italian Grand Prix at Monza has been a bit of a bogey race for my Red Bull Racing team - we have never been absolutely competitive there.
Normally, we might have been thinking about it as a race to limit the damage to our positions in the drivers' and constructors' championships, but this year we are hoping for a lot more than that.
Spa-Francorchamps, which held the last race, was also traditionally a difficult track for us. But my team-mate Sebastian Vettel and I scored a one-two there, which we were certainly not expecting.
That's why Spa was such a rewarding weekend for us.
McLaren and Ferrari will be going to Italy this weekend thinking they have as good a chance there as anywhere to beat us.
So if we can pull out another strong result this weekend, it would be like what in football they call a six-pointer - when you beat a team that is fighting for the same thing as you.
And it wouldn't just help us mathematically; it would be a massive psychological blow to our rivals as well at this point of the season.
I'm still in the championship fight with Seb, albeit a long way behind in second position, so it's not good for me if he gets a top result at Monza. But overall for the team it would be brilliant. Pretty soon, the others are just going to run out of races.
Seb is in a dominant position in the drivers' championship thanks to his great string of victories in the first part of the season.
In that sense, the battle for the title between the drivers has been a bit of a non-event this year, especially when compared to last season.
But, in terms of the races themselves, it's been one of the best years we've ever had in F1.
The racing between us has been awesome and I think that F1 is arguably producing the best racing out of any formula. That's exactly how it should be but it hasn't always been the case.
In terms of events off the track, the latest version of the 2012 calendar has been published, and the Turkish Grand Prix has been dropped.
In some ways, that's a shame. They were super-friendly there, and it's a good track, with what has become very quickly a famous corner - the high-speed multi-apex Turn Eight.
But the fans just did not turn up. We were racing in front of the marshals. It was so disappointing.
There are some races that don't get the support we would like. And you do wonder at the time how they're going to sustain it.
We would love for the fans to have been let in for free but in terms of atmosphere at the track we could have been anywhere. I can't see us going back there.
ON THE MARK
One track that could perhaps replace Turkey one day is Imola in Italy, which hosted the San Marino Grand Prix for many years.
I've just read that the track has recently passed an FIA homologation test and so is in a position to be able to host a grand prix when the time is right.
Imola is a full 180 degrees from Istanbul in terms of feeling and passion. Of course it is also remembered for the great tragedy that befell the sport when we lost one of our greatest drivers, Ayrton Senna, and Roland Ratzenberger there in 1994.
Those memories stayed with us whenever we used to race there; it has an incredible presence about it and the fans at Imola have a huge passion and love for the sport, just as they do at Monza.
I know most drivers have it on their list as the one track they'd like to see F1 return to.
OFF THE MARK
I nipped over to Cardiff last weekend for one of the Speed Jam events where Red Bull take F1 to the public. It was a pretty good turn-out despite some ropey weather, so that was fun.
Apart from that I've had a quiet time at home since the last race. I've had my parents over from Australia, so I've been spending some time with them, not doing very much.
One thing that stood out, though, was the BBC TV programme, Harry's Arctic Heroes, with Prince Harry and some servicemen who were severely injured in Afghanistan trekking 200 miles to the North Pole in support of the charity Walking With The Wounded.
I met some of those guys at the British Grand Prix, which was a humbling experience, and it was good to have that joined up by watching the programme.
It's inspirational stuff, watching those guys who suffered life-changing injuries, who were amazingly fit and able before, get focused again and learn how to live in a different way and accept their disabilities.
It reminded me a lot of a guy called Michael Milton, a competitor who joined me on my 2007 Tasmania Challenge.
Michael only has one leg, has beaten cancer twice and is one of Australia's most successful Paralympians.
He never wanted any sympathy from the rest of us and actively disliked anyone using words such as 'brave', 'courageous' or 'overcoming hurdles' to describe him. He says having one leg is no big deal - it's just part of who he is.
WEBBER UNSPUN
The US Open tennis is winding to a climax at Flushing Meadows in New York at the moment, and last weekend it threw up one of those moments where you can't quite believe what you're seeing.
Rafael Nadal was sitting there holding a live news conference, and suddenly he started grimacing and slowly disappeared under the table.
You can be sure that's going to turn up in plenty of end-of-year review shows. Not to mention Question of Sport in the future as well.
There's been quite a bit about it in the media the past couple of days, with doctors and medical experts giving their opinions on dealing with cramp.
It's not something I've experienced but I can relate to feeling a bit rough in news conferences as sometimes after a race we can do 90 minutes of solid press work and all you really want to do is to get out of your race suit and unwind. I haven't fallen off my chair yet, though.
As a professional sportsperson, you prepare as best you can for each event, taking into account location of the event, time zone, jet lag, and maybe dietery challenges depending on where you might be in the world (we've got all that to come once Monza is over). All this is constantly evolving and improving with experience.
I am 100 times more prepared than I was in my early 20s in terms of knowing what I need.
In particular, I have had some bad experiences with hydration - or rather the lack of it. In my case, it was when my preparation was completely naïve.
I had a heavy crash towards the end of the Monaco Formula 3000 race in 2000 due to me thinking I could complete a race around the streets without a drinks bottle and no pre-race hydration strategy.
I went to see some specialists and tests proved that my fitness levels were more than up to the job but they put me on a completely new track as to when and what type of fluids I need when the body is subjected to certain demands.
Touch wood, I haven't had a problem again to this day.
Mark Webber was talking to BBC Sport's Andrew Benson. Read his exclusive column every Thursday