Lewis Hamilton says 2011 feels like his worst F1 season
By Sarah Holt
BBC Sport in Monza
Last updated on .From the section Formula 1
McLaren driver Lewis Hamilton says this season feels like his "worst year" in Formula 1.
The 2008 world champion has won two races but has also been criticised for crashing out twice and a number of run-ins with race stewards.
Hamilton wants to move on at the Italian Grand Prix saying: "I'm trying to get back to some good results.
"It feels like it's been a worse year than I've had previously. I'm an easy target because I'm always in trouble."
He arrives in Monza on the back of an incident-packed weekend in Belgium two weeks ago.
He was given a reprimand for a collision with Williams driver Pastor Maldonado in qualifying, an incident for which the Venezuelan was handed a five-place grid penalty.
And Hamilton then crashed out of the race while trying to overtake Sauber's Kamui Kobayashi - he collided with the Japanese when he edged over to take the racing line into a corner not realising Kobayashi was still alongside him.
Hamilton apologised to his team immediately after the race in Spa and in Monza on Thursday he explained it away as a racing incident.
"It was just a mistake," he said. "But it wasn't because I was being aggressive.
"People blame it on aggressive driving but it had nothing to do with that. I didn't even know he was there.
"I'll continue to drive the way I do. I'll just do my hardest to stay out of trouble. I'll give people extra, extra room."
Hamilton - who is in a relationship with Pussycat Dolls singer Nicole Scherzinger - also denied that his lifestyle away from the track was affecting his racing.
He said: "They [the media] don't really have a clue what I do in my personal life. I live a normal life and I can't understand why I can't have a relationship like everyone else can. I don't live a celebrity life.
"I am in F1 so the cameras are around me but when I go home I live a normal life and I am not distracted.
"I would love to finish the next seven races, that's my target. If I do that I will be in good positions and I can be competitive.
"I seem to be a great magnet for trouble at the moment but I will try to avoid that and try and get some good points.
"There's a chance to win all seven (races) and if you do that there is a mathematical chance of still winning the championship so we are still hopeful. I will keep pushing and drive aggressively."
Hamilton first sparked controversy this season at the Monaco Grand Prix, when he criticised stewards after he was penalised for two separate incidents on his way to sixth place.
Hamilton, who later apologised for his outburst, had said: "It's an absolute frickin' joke. I've been to see the stewards five times out of six this season."
At the next race in Canada, he crashed out after colliding with his team-mate Jenson Button.
Hamilton's feisty driving was part of the recipe that helped him take the world title three years ago.
But even on his way to the 2008 championship there were notable incidents, including crashing into the back of Kimi Raikkonen's Ferrari in the Canada pit lane and a controversial demotion from victory in Belgium for cutting a chicane, among other penalties and crashes.
"In 2008 there were some incidents but because I won the championship they were forgotten," Hamilton agreed.
"[This season] I've had two DNFs but I feel I've had worst races; Monaco was a poor race.
"I'm thinking it would be good to have something good to write about me."
Hamilton is fifth in the championship - 113 points behind Red Bull leader Sebastian Vettel with 175 still available - but he has put the title race out of his mind.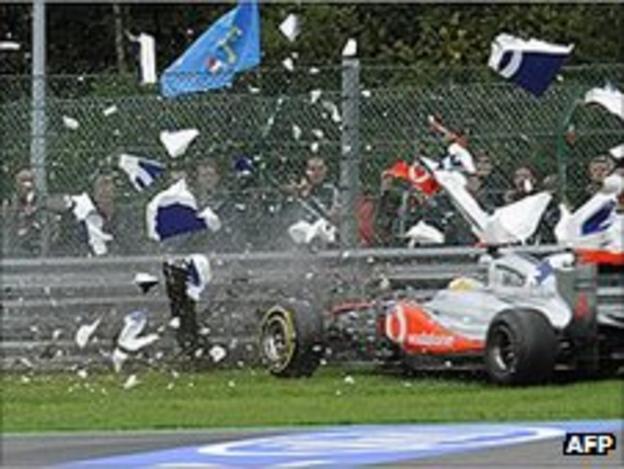 "I'm not really focusing on that," he said. "I'm feeling good but I don't know what to expect this weekend.
"We'll find out tomorrow (in Friday practice) if we are competitive in straight speed."
On the other side of the McLaren garage, Button also has two wins and two retirements to his name but his reactions to events have been different.
When asked if he had noticed the contrast between himself and Hamilton he said: "We're very different people.
"He is more outspoken but is that wrong? Sometimes it's good to get your points across, if you have an issue with something you have to let people know.
"We're just different people in that respect. I personally feel it's better to talk to the team than talk though the media but we are built differently.
"We are both passionate about racing but it just comes out in different ways."
This weekend the English team-mates are both targeting a positive result in Monza, a high-speed, low-downforce track where neither driver has won before.
"We have to go out and try and win every race for the rest of the year," said Button. "Not so much for the title but just for our enjoyment.
"Every team is so emotional and passionate that when you win it is such a special feeling, we want a lot of that even if we can't win the championship.
"We have to make sure that every race we do we're meticulous about the detail of the car and what we put on the car is 100% reliable.
"I'm very happy with what I'm doing with the car. I'm really enjoying it as well which is massively important."