Red Bull's Sebastian Vettel heads final Monza practice
By Sarah Holt
BBC Sport at Monza
Last updated on .From the section Formula 1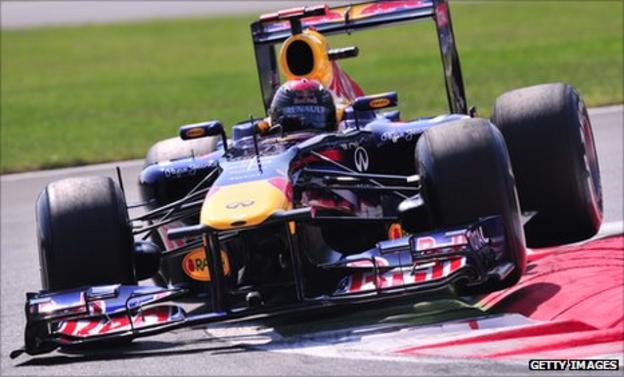 Red Bull's world champion Sebastian Vettel tuned up for qualifying by setting the fastest time seen so far in practice for the Italian Grand Prix.
Vettel beat his team-mate Mark Webber by 0.364 seconds as Red Bull showed every sign they can tame Monza.
Felipe Massa was third for Ferrari, but was nearly half a second off the pace, with team-mate Fernando Alonso eighth.
The McLarens of Lewis Hamilton and Jenson Button were fourth and fifth ahead of the improving Mercedes pair.
Red Bull have never scored a podium finish at Monza, but this year they appear to have cracked the legendary track, which historically does not play to their strengths.
With four main straights and just one fast corner at Parabolica, it is a track that rewards engine power and straight-line speed.
Vettel and Webber were almost half a second clear of their rivals and few would bet against Vettel wrapping up his 10th pole position of the season.
"We could be watching the battle for third on the grid," said Team Lotus reserve Karun Chandok, who was acting as an analyst on 5 live.
"We're looking at a Red Bull battle for pole unless McLaren, Ferrari and Mercedes can find something in the next two hours."
Ferrari president Luca di Montezemolo ramped up the pressure on his team by touring the garage as mechanics rushed around preparing the cars.
The team had worked overnight to find a solution after struggling for pace on Friday and trialled a new front wing in final practice to try to close the gap on their rivals.
It was a Ferrari that came closest to the Red Bulls but Massa was 0.483secs off the pace. Alonso, almost a second adrift, was behind both McLarens and both Mercedes.
McLaren did not appear to have made in-roads into Red Bull's advantage as Hamilton was 0.571secs shy of Vettel while Button complained again about the balance of his car.
There is one glimmer of hope for McLaren, however, who may have opted to run their car in a higher downforce set-up to gain speed through corners during the race and to boost the effectiveness of their DRS overtaking aid.
At least Mercedes found Monza's four, long straights to their liking, although Rosberg and Schumacher, who were sixth and seventh, set their lap times on low-fuel runs.
Tyre management is set to be a decisive factor this weekend as the rubber experiences higher loads at Monza - where the drivers can hit top speeds of 211mph - than at any other circuit on the calendar.
As track temperatures climbed on Friday, Red Bull and McLaren both had problems with tyre blistering - where the surface of the tyre overheats and bubbles.
Track temperatures were a cooler 33C in final practice but are expected to climb ahead of qualifying.
The sport's governing body, the FIA, has also responded to calls from tyre supplier Pirelli to police the level of camber - which is how much the tyres lean away from the vertical - at the Italian GP.
Any cars that do not adhere to the recommendations made by Pirelli - which is 3.25 degrees - will be deemed to be of "dangerous construction" and that means they could face expulsion from the race.