Ferrari president says team principal's job is safe
By Sarah Holt
BBC Sport at Monza
Last updated on .From the section Formula 1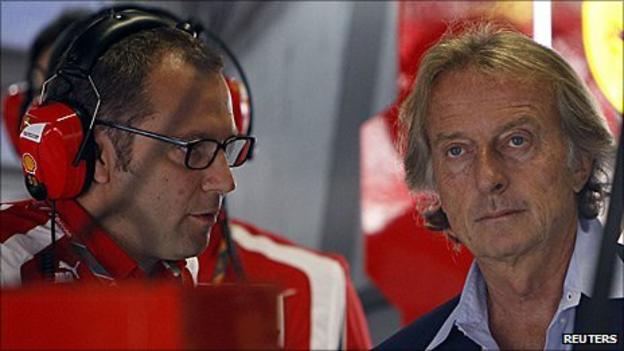 Ferrari president Luca di Montezemelo says the team's failure to challenge for the title will not cost Stefano Domenicali his job as team boss.
Fernando Alonso is third overall but 107 points behind Red Bull's leader Sebastian Vettel with seven races left.
When asked by BBC Sport if Domencali would lead the team in 2012, Di Montezemelo said: "In one word, yes.
"Stefano has all my commitment. He has a big commitment to deliver and so he will be very busy."
Domenicali was quoted in the Italian media this week saying he was confident he was building a team that could again dominate F1 as they did when Michael Schumacher was their driver in the last decade.
The Italian marque have had mixed success under Domenicali, who succeeded current FIA president Jean Todt as team principal in 2008.
They lost the title at the final race of the season in 2008 and 2010 but won only one race in 2009, the same number of victories they have so far in 2011.
But Di Montezemolo said he was satisfied the team he had assembled can challenge for the championship in 2012 and beyond.
"When Todt left the company it was of course the end of one era," the Ferrari president said.
"We have opened a new era, new people and a new mentality. Even we discovered there was the necessity to improve some areas.
"I'm very happy that my team management is so confident and I look forward that he will deliver.
"I am pleased to have what I think is the best driver in the world, that is Fernando and I'm pleased to see a good reaction from Felipe (Massa) in the second half of the season.
"So for next year I hope to make a condition to win again the championship."
As revealed by BBC Sport, Ferrari tried last year to persuade Adrian Newey - Red Bull's championship-winning designer - to lead their technical department but Newey turned down the offer.
Di Montezemelo ruled out a second approach to Newey, saying: "I have a big opinion of Newey but I am pleased and happy with my technicians.
"I am also absolutely confident that, with all respect to Newey, we can have a very competitive car new year because I know my people."
Di Montezemolo laughed off questions that he is considering a move into Italian politics after 20 years at the helm for Ferrari, saying he was "more committed than ever" to the Italian team and car company.