Sam Michael to become McLaren sporting director after Williams exit
Last updated on .From the section Formula 1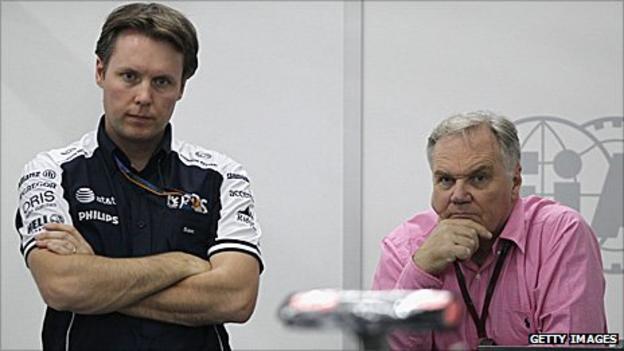 Outgoing Williams technical director Sam Michael will begin a new role as McLaren sporting director in 2012.
The Australian, who announced in May he would resign from Williams at the end of this season, will now focus on McLaren's trackside operations.
"I'm extremely excited to be joining McLaren," Michael said. "They are one of the all-time greats of Formula 1."
McLaren team boss Martin Whitmarsh said Michael would bring "experience and expertise to our pitwall".
Michael's last grand prix in his capacity as Williams technical director will be at the next race in Singapore.
He is not due to travel to the final five races of the season with Williams but could appear in the paddock with McLaren, even though he will not start his new role with them until 2012.
While former McLaren engineer Mike Coughlan - the man at the heart of the 2007 spy-gate scandal - has returned to Williams as chief engineer, Michael takes on a new position within McLaren's technical team.
The Australian's role will focus on development and management of the team's trackside operations as well as working closely with drivers Lewis Hamilton and Jenson Button.
"I'm very pleased to welcome Sam as an important senior addition to our race team," added Whitmarsh.
"I'm certain he'll work extremely well with our senior technical management team, which I firmly believe will now become the strongest in all of F1."
The role of McLaren sporting director was last held by Dave Ryan, who was fired by the team for his part in "lie-gate" at the 2009 Australian Grand Prix, where Hamilton was disqualified for misleading race stewards.
Michael has now filled that vacant role but his appointment is not expected to affect anyone else's position within the team.
The Australian joined Williams in 2001 as chief operations engineer and was later promoted to technical director, a position he held for eight seasons.
"I've spent 11 seasons with Williams, have many fond memories, and truly wish them all the best," Michael said.
"In the near future, however, I will become 100% focused on McLaren. I already know and respect many of the team's senior technical management figures, and becoming a member of that excellent working unit was one of the prime attractions of this new position.
"Equally, for some time I've closely observed and greatly admired both Lewis and Jenson as grade-one drivers, and therefore regard it as an enormous privilege to be able to work with both of them."
The restructure at Williams has already seen Jason Somerville arrive as the team's new head of aerodynamics, while Mark Gillan will join the team as chief operations engineer later this month.
The team's co-founder Sir Frank Williams commented: "I am delighted that Sam has found a new role that will enable him to continue to apply his energy, passion and experience to F1.
"On behalf of everyone at Williams, I wish him a successful move to his new team."