Mark Webber column

By Mark Webber
Red Bull driver
Last updated on .From the section Formula 1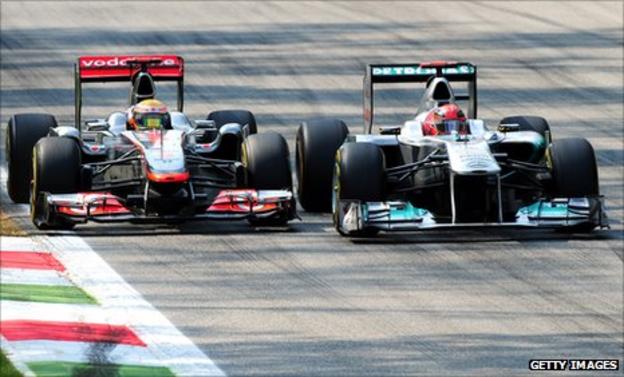 The Italian Grand Prix was one of those races that remind you how much it sucks not to finish.
It's been a while for me but it's such a frustrating feeling - both for yourself and for the team after all the effort that has gone in.
It was doubly disappointing in Monza because the car was better than it has been all year.
It felt phenomenal in the first few laps and I just got a bit carried away trying to come back through the field. I should have been much more patient with Felipe Massa.
The move was certainly on but I clipped the kerb and we collided. I couldn't get the car back to the pits then because there was some stuff jammed underneath and I went straight on into the barriers at Parabolica.
It's always a balancing act in those situations. Yeah, you can trundle along at 30mph but then you will lose so much time you might as well retire, so you've got to push it a bit.
It all started to go wrong in qualifying.
It was pretty close between myself and my team-mate Sebastian Vettel on Friday and in the first two parts of qualifying. But, in the top-10 shoot-out, there was too much indecision from me on what we were going to do - and I had some problems with my Kers power-boost system too.
I didn't have Kers for the whole lap and I couldn't be sure it was behaving in the braking areas when it was recharging. That is not ideal when you're hitting the brakes from more than 200mph.
Seb won the race again and, although he is not quite champion again yet, we're all now effectively fighting for second place.
But I wasn't really thinking about that. I just wanted to build on the momentum of Spa - which was a very strong race for me - and challenge for the win again. That's probably what undid me early in the race.
It didn't work out and that's the way it goes sometimes in sport.
ON THE MARK
There were two major talking points after Monza - the battle between Lewis Hamilton and Michael Schumacher - and Seb overtaking Fernando Alonso for the lead.
It was a unique fight between Michael and Lewis because the McLaren was running up against the rev limiter, so Michael had a speed advantage on the straights. He could position his car very cutely to try to keep him out.
There were a few times when Michael returned to the normal line having defended. That's the point of interest because it's not what most drivers understand to be acceptable.
One incident in particular stood out - Lewis had a clear run out of the second chicane into Lesmo and Michael went across to defend, then came back again.
Moving that many times was pushing the boundaries.
The incident between Seb and Fernando was completely different.
Fernando has copped some criticism for easing Seb out to the edge of the track but he did nothing wrong.
He did nothing erratic; it was a hard, consistent squeeze. They were side by side and, at some point, Seb touched the grass.
OFF THE MARK
Unfortunately, I got home very early on Sunday night - I left before the end of the race, knowing what the Monza traffic can be like.
While I'd rather have been around at the end, it did mean I got home in time to watch the whole women's US Open final, in which Australia's Sam Stosur beat Serena Williams to win her first Grand Slam title.
I hadn't even realised it was on but I got the whole family together - my Mum and Dad are still over - and it was great to see.
It's been a long road for Stosur to get to that position. It has been six years since she reached her first women's tour final. She lost in the final of the French Open last year and everyone from the TV pundits and the media to the armchair experts said that was the only opportunity she was going to get. But she has stuck to her guns.
It was an emotionally-charged atmosphere, being in New York on the 10th anniversary of 9/11 but Stosur played out of her skin in the first set, then in the second set it all kicked off with Williams's grunting.
She had a point deducted for cheering before the ball had cleared Stosur and that meant Stosur broke serve in the first game of the second set.
It all got a bit heated for a while but she stuck to it and won really impressively. As I know only too well, to get that first big win off your back after such a long time feels awesome.
There's so much emotion, relief after all the years of toil, then it's over in 65 minutes. We do most of our learning in adversity and all that experience will have helped her deal with all the stuff that happened during the match.
Serena is such a great player and it was disappointing to see the way she behaved. Sometimes when you cross the white line things happen that you might regret.
WEBBER UNSPUN
After a debrief at the Red Bull factory on Monday afternoon, I attended the Premier League match between QPR and Newcastle as a guest of Team Lotus boss Tony Fernandes, who has recently taken over ownership of QPR.
I went along with a couple of Aussies and had a great night. Unfortunately there weren't any goals but, as far as a 0-0 goes, it was an entertaining game and there was a good atmosphere.
QPR had the most opportunities but were let down by their finishing but, if they play like they did that night, I'm sure they will pick up quite a few victories. They'll need to have good home form, though, because travelling will be tough for them.
I wasn't the only F1 driver at Loftus Road.
Lotus drivers Heikki Kovalainen, Jarno Trulli and Karun Chandhok were there and there were a few other sportspeople as well. I really enjoy going to other sporting events when I get the chance so I can watch other athletes give it their best shot.
Tuesday was another day when I was able to mix business with pleasure before I head off to Asia for the next few weeks.
This time it was at the impressive Lee Valley White Water Centre in Hertfordshire, which will host five days of canoe slalom competition during the London 2012 Olympics.
I had a great time on the two courses, one is a 300m Olympic-standard competition course, with a 5.5m descent and a 160m Legacy Loop with a 1.6m descent.
It's a super venue and, although it's been built for the Olympics, it's already open to the general public at weekends, giving everyone the chance to sample something a bit different.
There's always controversy about how much it costs to put on major sporting events wherever they are in the world.
But I know what the Sydney Olympics did for sport in the community back there and it'll be great for Londoners to get the same buzz from enjoying great sporting facilities on their doorstep.
Mark Webber was talking to BBC Sport's Andrew Benson. Read his exclusive column every Thursday