Mark Webber column

By Mark Webber
Red Bull driver
Last updated on .From the section Formula 1
This weekend's Singapore Grand Prix is one of the season's showcase events - and probably the toughest of all for drivers.
So many things add up to make it that way and I love the challenge and endurance aspect of the race.
The grand prix runs for two hours; it's a long lap on a very demanding course that is pretty repetitive, with lots of 90-degree corners and heavy braking.
It's bumpy, which is uncomfortable in the cockpit and makes the demands on concentration very high, and, on top of all that, it is incredibly hot and humid, even though we're driving at night.
Television just does not do it justice and you need to be there to begin to appreciate it.
It's the same with a lot of sport that's held in extreme conditions, whether it be playing Test cricket in India or competing at the Australian Tennis Open in the middle of summer.
Singapore is of course on the equator and I'm sure some of you will have been there on holiday, or to somewhere like Sri Lanka or Malaysia, and experienced what that can be like in terms of intense heat.
We are wearing three layers of fireproof clothing. There is no ventilation in the cockpit - even though it is open, the air is directed around the driver as much as possible. With a racing engine behind us, and radiators either side of us, temperatures in there exceed 50ºC.
In a grand prix there is no respite - it's high intensity action for the entire duration of the race, with core body temperatures often higher than 40ºC and your heart rate above 170 beats a minute.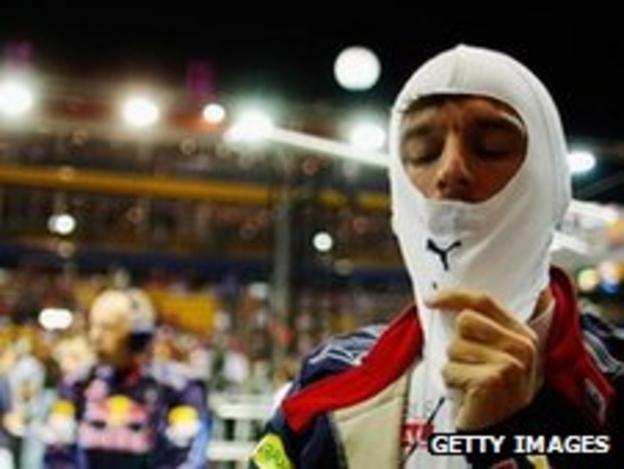 It's a raw environment; there's no comfort, and you just have to get on with it.
The key thing is to keep on top of your hydration and that starts three or four days before the race - don't forget we have three hours of practice sessions on Friday, and two hours of practice and qualifying on Saturday before we even get to the race.
It's incredibly important to keep hydrated, and it's not about just being thirsty. If you dehydrate, it can have a major effect on body and cognitive function. So for us it can even become dangerous.
We have a drinks bottle in the car but, because of the tight confines of the cockpit and the need to keep weight down, that holds no more than a litre - and I'm definitely going to lose a lot more fluid than that during the race.
Our workload is made even higher by the fact the race is at night.
The lighting in Singapore is very good but it still requires a little bit more effort than normal to compute what you're seeing.
It's not natural light and there are inconsistencies around the track: some places have more light than during the day; some have less.
But those little subtleties of light are something you really notice at 180mph. Just think of what it's like when you're driving at night on a motorway and the lights are flashing past you. Then multiply it…
Finally, there's the fact that, by and large, we stay on European time, even though Singapore is six or seven hours ahead of that.
You have breakfast at three or four in the afternoon. You leave the track at 0130-0200 and try to get some dinner.
It's pretty surreal but it's all worth it - it's a very rewarding grand prix and the tough environment helps makes it that way.
ON THE MARK
I organised my weekend around watching sport, and that started with the Australia-Ireland Rugby World Cup game on Saturday morning.
As a proud Australian, I was obviously disappointed with the result, but the old scoreboard never lies.
It was a strange game to watch - rugby matches between the top teams are often pretty tight in terms of scoring in the first half but you can get a sense that one of the teams is going to take control in the second. And it felt like that was going to happen for Australia; it just never did.
The Irish forwards were really strong and made it hard for us in the scrums. We didn't get a lot of the basics right, and the Irish kept their mistakes to a minimum.
The most potent aspect of the Wallabies is when we can get our backs into the game and exercise some movement. That's all well and good when it's nice and dry and you're playing on a perfect pitch. But when it's war against the Irish and it's lashing down with rain, you need to be more flexible.
Some of our players weren't playing at their best, and we just didn't get our backs into the match.
Australia might have taken Ireland a bit lightly. We've done very well against New Zealand and South Africa in the past few months, which has been good for the confidence - but that was a bit of a reality check.
It'll either make or break us. It'll either be tough to recover, or it could be a good wake-up call. I expect us to bounce back stronger.
OFF THE MARK
It's always good to watch the clashes between the big football clubs, and Manchester United-Chelsea on Sunday had the added interest of the battle between the managers - the old hand Sir Alex Ferguson against the new guy at Chelsea, Andre Villas-Boas.
It was game full of astonishing incidents and I don't think the 3-1 scoreline reflected the chances Chelsea had.
As a professional sportsman, you want to see other top athletes doing phenomenal stuff such as when Wayne Rooney did that bicycle-kick to score against Manchester City.
But every now and again it is nice to see them being human - as Rooney was when he scuffed the penalty and Fernando Torres in missing an open goal.
That's where sport is amazing - the old top two inches is so important and Torres just needs to get out of this difficult phase. In that sense, it was actually quite a good game for him. Apart from that miss, he played pretty well.
WEBBER UNSPUN
Last week I went over to Paris and spent a day at the Renault F1 engine factory at Viry-Chatillon on the outskirts of Paris.
I've known most of the guys there since 1999-2000, when I first tested for Benetton. We have been through a lot together and all my proper success has been with Renault.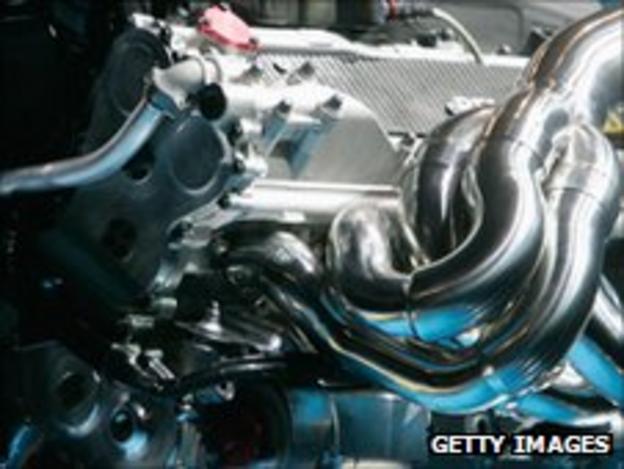 I saw the engines on the dynamometer, which is a test bed where they put the engines through their paces, and it's always impressive.
A lot of people don't realise it, but an F1 engine is like a living, breathing entity - it's fascinating how much it moves. It vibrates intensely and the exhaust pipes flare up red hot, and swell and contract.
There's a little game we play - the team do a lap with the engine and I have to listen and guess which track it's at. They're always amazed how the drivers can pick that up pretty quickly - but all the gearshift patterns and everything are in our heads.
Renault take a dozen engineers to the race, but there are 100 or so back at Viry who have an equally important role in what we do.
So I like to visit there at least once a year. It's crucial to go and thank them for all their efforts as part of the huge chain that needs to be locked together to get a car to the end of a grand prix.
Mark Webber was talking to BBC Sport's Andrew Benson. Read his exclusive column every Thursday.