Jenson Button says errors have left McLaren out of title fight
By Andrew Benson
BBC Sport in Singapore
Last updated on .From the section Formula 1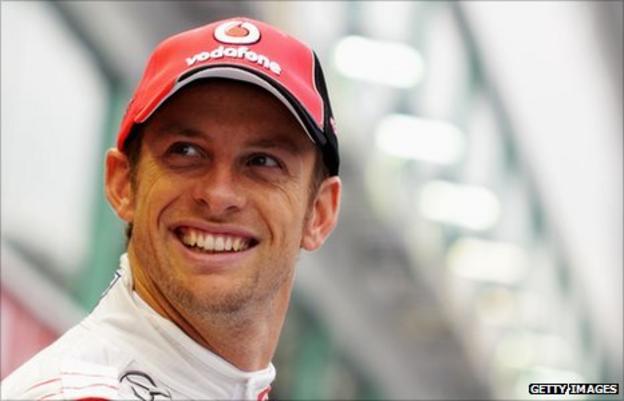 Jenson Button says his McLaren team have been unable to fight Red Bull's Sebastian Vettel for the title because they have made too many errors.
The Englishman still has an outside chance but must finish second if Vettel wins on Sunday to keep his hopes alive.
"We've made too many mistakes this year and haven't got it together on a race weekend, even when we've had the performance," Button said.
The McLaren driver is 117 points behind Vettel with 150 available.
McLaren and their drivers have made a series of mistakes during the season that have cost them the chance to challenge Vettel for race wins.
Among them were a strategy error in qualifying at Monaco that left Lewis Hamilton stranded in ninth place on the grid; and two consecutive retirements for Button after a wheel was not tightened at a pit stop at the British Grand Prix and then in Germany following a hydraulics failure.
Button also pointed to the last two races in Belgium and Italy as grands prix they could have won but Vettel did.
In Belgium, Button qualified 13th following a miscommunication with his engineers, but recovered to third in the race behind Vettel and team-mate Mark Webber, while Hamilton crashed out of the race.
In Italy, poor starts cost both McLaren drivers although Button recovered to finish second behind Vettel, with Hamilton fourth behind Ferrari's Fernando Alonso.
Button said here on Thursday: "That's something we've got to work on. If you look at the last two races, if everything had gone well, we'd have had really good chances. But we haven't done a good enough job."
He added: "I think we have a car that's good enough to challenge for wins and if we don't make any mistakes and everything goes right we can really challenge Red Bull and Sebastian."
Hamilton's chances in Italy were harmed when he was passed by Michael Schumacher's Mercedes and spent half the race trying to get past the German.
Schumacher used controversial tactics to hold Hamilton back, appearing to break F1's "one-move" rule but not getting punished.
Hamilton complained about Schumacher's tactics over the radio during the race but refused to criticise him afterwards when talking to the media.
Asked why on Thursday, he said: "I was disappointed that I couldn't do better in the race. Just keep my mouth shut. It's done me a lot of good, I've been very relaxed the last couple of weeks.
"You constantly ask me what lessons I learn, and that was one lesson I was able to apply that day because I'm a very passionate and blunt person. I'm not scared to say what I feel, but that can be used against me. At that time, I was able to control myself. And that's what life's about - being in control."
Asked how hard it was to go against his natural instincts, Hamilton said: "If someone punches you in the face, how hard is it not to punch them back?
"At school, it's hard, unless you're scared, it's hard to hold back. That's the kind of control you need to have."
Vettel is 112 points ahead of Alonso, with Button and Webber tied on points a further five behind, and Hamilton fifth nine points adrift of Button.
The German can win the championship this weekend if he wins the race and Alonso finishes lower than third and Webber and Button are lower than second.
But Button denied that Vettel clinching the title early would make the remaining five races before the end of the season meaningless.
"Fans are still going to watch because it's the best racing I've ever seen and definitely been a part of," Button said.
"F1's in a great place right now and even if the championship is over they are still going to watch racing."
He added: "Winning races is almost as much as winning the world championship because it's such an emotional feeling crossing the line first.
"The world championship you kind of work up to through a season, whereas a race is over an hour and a half and when you win that race the emotions within the team and the atmosphere… it's unbelievable.
"That's what we are out to do, win races, and it's not going to change because we can't win the title."
Hamilton, who won in Singapore in 2009, said he felt McLaren had a "serious chance" of winning the race.