Sebastian Vettel's dominance leaves rest trailing

By Martin Brundle
BBC F1 commentator
Last updated on .From the section Formula 1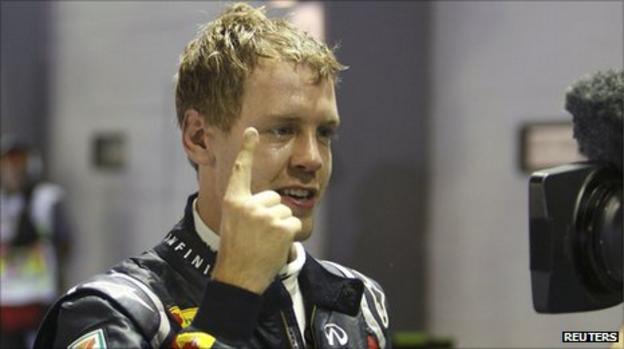 If this Formula One season was like Golf's Ryder Cup, the other 'players' would have already conceded the championship to Sebastian Vettel.
In the next five races he either needs to finish once inside the top ten - or he will be champion in any case the moment Jenson Button fails to win a race.
His dominant display in Singapore again elevated him into a different class to the rest of the field. Surprisingly it's the first time since Valencia 2010 he has led from lights to flag, including the pit-stop phases.
He was basically unchallenged, even if Jenson put on a mighty charge in the closing stages. The winning margin was only 1.7 seconds as Vettel found heavy lapped traffic in the final few laps.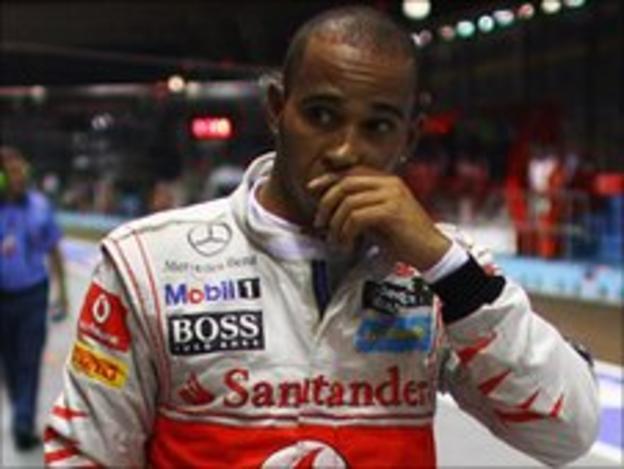 Vettel was asking to have a run at fastest lap in the closing stages but the team denied him. It's a clear indication of his determination to rewrite history.
His presence of mind and calm head was clearly demonstrated when a Lotus was carelessly released from its pit-stop virtually into the side of him.
He knew they had pitted together, suspected they would be leaving roughly together, and was watching the Lotus release lights as he trundled down the pit-lane. He was ready just in case.
Despite a troubled weekend, including 50 minutes of lost track time when he made an error and couldn't get reverse gear, Button proved to be the only driver capable of keeping Vettel awake in the artificial light. Jenson has laid a strong claim to finishing second in the world championship, a position he says is of no interest to him.
Vettel has won the last three races and Button has been on the last four podiums too.
The remaining five races now for Mark Webber, Fernando Alonso, Lewis Hamilton and Button are all about rescuing the season with a victory or two.
Vettel has already joined Nigel Mansell and Michael Schumacher as the only drivers in F1 history to win nine races in a season.
The fourth Singapore Grand Prix at Marina Bay just squeezed under the two-hour limit by 54 seconds.
It wasn't a classic but with high tyre degradation, a safety car bunching the cars up between laps 30 and 33, and Lewis Hamilton constantly having to pass cars, I never felt there was a lull in the action.
Hamilton drove beautifully apart from the one error of judgement when breaking his front wing off against the rear tyre of Felipe Massa's Ferrari.
I've often thought Lewis takes unnecessary risks with the front of his car in close combat.
He was already compromised having lost a set of supersoft tyres with a puncture in qualifying.
He had a decent start but couldn't take his speed anywhere and, as his options closed, several cars steamed down the outside and passed him into turn one.
He struggled for pace initially but soon dispatched the two Mercedes and closed on the pack he should have been racing, the first of which was Massa.
Once again we find ourselves debating a Hamilton penalty. There's no doubt in my mind he has alienated somebody in the past because these circumstances always seem to go against him.
I believe that if he had lost his own wing and was forced to pit - but Massa carried on effectively untroubled - there should have been no penalty. For me the consequences are as important as the contact.
Massa's race was ruined through no fault of his own and I would have given the drive-through penalty. Webber crashed into Massa in Monza, spinning him around in the first chicane, but crashed out of the race trying to get back to the pits. I can only assume he too would have been penalised?
This debate will carry on until there are permanent stewards at every race.
Jenson slid into Alonso in Canada and spun him out before going on to a magnificent victory. I can't tell you why that was deemed less serious than Lewis's contact with Massa at the weekend.
Lewis otherwise drove a great race. He finished fifth, despite four pit stops and that drive-through penalty.
Behind him in sixth was Paul Di Resta, claiming his best F1 result to date with a fine drive. Paul, who has such an easy speed in the car, told me he was coasting at the end, comfortably keeping the remaining Mercedes of Nico Rosberg at bay.
The teams have just started a marathon global tour of six races and many of them were still packing away on the Monday morning in a tropical storm.
It will be very tough for everyone involved, although the Red Bull boys are homing in on another double championship win bonus to ease their tiredness.