Sir Jackie Stewart says F1 should learn from Dan Weldon death
Last updated on .From the section Formula 1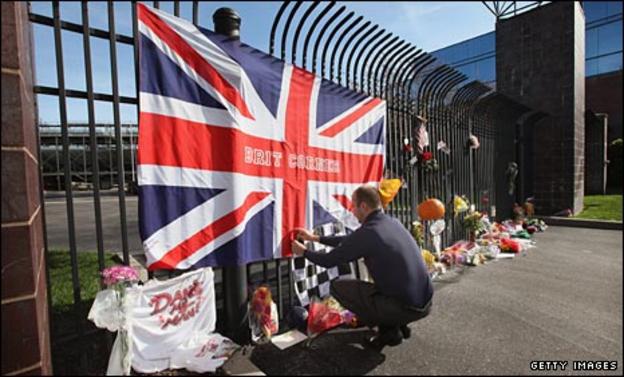 Former world champion Sir Jackie Stewart believes the death of IndyCar driver Dan Wheldon should also act as a wake-up call for Formula 1.
"We had very few people colliding with each other in my period of racing and thereafter," three-time F1 champion Stewart told BBC Radio Scotland.
"Now it has become somehow or other acceptable and that is a warning.
"Yesterday's accident is sadly a terrible wake-up call and they have to recognise the risk is very real."
Englishman Wheldon died after a 15-car pile-up at the Las Vegas Indy 300 and another former F1 world champion, Jody Scheckter, has urged his own son to quit IndyCar as a result.
But Stewart pointed to a crash involving Vitaly Petrov and Michael Schumacher during Saturday's Korean Grand Prix as an example of how other motor racing disciplines must re-examine their own safety measures.
"I think there needs to be more discipline by the governing body," said the Scotsman, who described Wheldon as a great ambassador for British motor racing.
"If drivers do consisently collide with each other, there should be heavier penalties.
"It should be marked down as something that just can't happen.
"With open-wheel racing cars, it usually means that the car will be thrown into the air because the two wheels turning in opposite directions cause a gear effect and the car gets thrown into the air, as we've seen on several occasions.
"And, in fact, there was just that type of accident that occurred in the Grand Prix that took place in Korea and, although nobody was injured, a wheel just needs to touch a driver's helmet and brain damage can be exercised."
Stewart, whose countryman Dario Franchitti secured a fourth IndyCar title after the cancellation of Sunday's race, recognised that F1 has a good safety record.
"It has now been 17 years, six months and something like 13 days since a driver lost his life in a Formula 1 car, whether it be in testing, qualifying or racing," said the 72-year-old.
"And I think everybody had grown away from experiencing grief and I think a lot of people will have had an awful shock by the ferocity of the accident.
"Every time there is a fatality, there's another wake-up call and one must recognise that motor racing is dangerous and you cannot, because of the long period without fatalities, expect that to go on forever.
"The law of averages would tell you that, every now and again, there will sadly be a life lost and this is a huge wake-up call for the racing driving fraternity - not just the IndyCar drivers.
"But we have to recognise that Formula 1 has been one of the examples of how you can make motor racing safer and our risk management is probably unequaled in the world in business or sport.
"Nevertheless, when a crash like that happens, you just see how vulnerable and how fragile life is.
"It has been a very long time since we have had a death and that's something we've got to recognise could happen again and we therefore have to readdress the whole safety business to try to remove as many of the downside risks as possible."