Mark Webber column

By Mark Webber
Red Bull driver
Last updated on .From the section Formula 1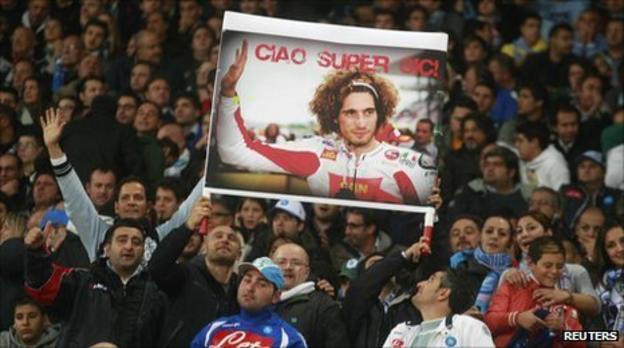 It's difficult to believe that, just a week after writing a column paying tribute to a motorsport star killed in a crash, I have to do it again.
Unlike Wheldon, I didn't personally know Simoncelli - but he was clearly a sensational character who had so much ahead of him.
He looked very distinctive on the bike and had a unique riding style. He was around six feet tall (183cm), while most MotoGP riders are quite small - and he had that wild, curly hair sticking out the back of his helmet.
It was always good to watch him race. He rode very hard and, off the track, he seemed one of those guys who simply didn't have a bad bone in his body. Those who knew him said he was a super bloke.
Wheldon and Simoncelli were both high-profile guys. Wheldon was one of the most-successful drivers in world motorsport, having won the Indianapolis 500 twice. People in MotoGP have said they thought Simoncelli would go on to become one of the greats of the sport.
But it doesn't matter what level of series it is, or how famous the person involved, it's always a tragedy when someone is killed racing.
Sepang is such a safe venue, for bikes and cars, and it was an incredibly freakish incident.
Marco had a mini-moment coming through a corner where it looked like he lost control, half-saved it, then ended up coming back towards the racing line leaning right over to the side. The guys behind him - Colin Edwards and Valentino Rossi - had nowhere to go.
It will be especially tough for Edwards and Rossi - they are super guys. My heart goes out to them as they try to deal with what happened. There was nothing they could do.
THE THRILL OF DANGER
The Simoncelli crash was an unusual incident but it was another brutal reminder that racing sometimes has a dark side.
To have two crashes like this in one week has obviously put the focus on safety.
It has improved immeasurably in the last couple of decades. People such as Sir Jackie Stewart had to deal with this sort of thing frequently compared to the relative rarity now. The powers-that-be are always looking to make it safer. In Formula 1, in particular, the FIA and the teams do a great job on that.
But motorsport will always be dangerous - just because of the speeds involved - and people will always want to do it.
Motorsport is man and machine. Over the decades drivers and riders have loved trying to tame that machine at the same time as trying to take it and ourselves as far as we can go.
Doing that, especially against other people, is very attractive - but it's not just motorsport.
There are lots of sports and activities where people do dangerous things because they are attracted by the thrill they get from it.
It could be horse racing, downhill skiing, mountain climbing, flying aeroplanes, ocean yachting, whatever. A huge amount of people enjoy the adrenaline rush you get from doing those things.
When you take it to a professional level, the boundaries are pushed to the edge. That might be by the conditions, the weather, or the competition. But we are always looking to improve and searching for the ultimate performance.
How do we go quicker, or higher? How do we do it better than other people? That's what the focus and the concentration are for all those activities.
The only downside is when it doesn't pan out. We love doing it and the only negative is that you can get hurt. If you're going to do these activities, that's something you have to accept.
There are lots of other things you can do in life that don't have those consequences but they don't give you the same satisfaction.
I think a person's need to do these things goes beyond even that. Exploring the limits and pushing beyond them - whether in science, exploration or sport - is fundamental to human nature.
ALL BLACK DELIGHT
Simoncelli's accident meant I didn't watch the Rugby World Cup final between France and New Zealand. I was intending to flick over but I wanted to hear the news that was coming out of Malaysia.
I did flick across to the rugby but pretty soon I wanted to get out of the house with Ann, my partner, to try to get my head around what had happened.
It obviously wasn't a fantastic night but I was happy for New Zealand that they finally managed to win the World Cup again.
The French put up a phenomenal fight and it was amazing that it was such a tight match, given the form of the two teams going into the final.
It's great for New Zealand - they really deserve it. That country has been through a lot of tragedy in the last couple of years, with the Christchurch earthquake in February, just months after the Pike River mining disaster when 29 people died.
To win the biggest event in their national sport, something which is so important to the national identity, in their own back yard, will be a great tonic for them.
I've got some friends over there and they tell me it has stopped the whole country as they celebrate.
WEBBER UNSPUN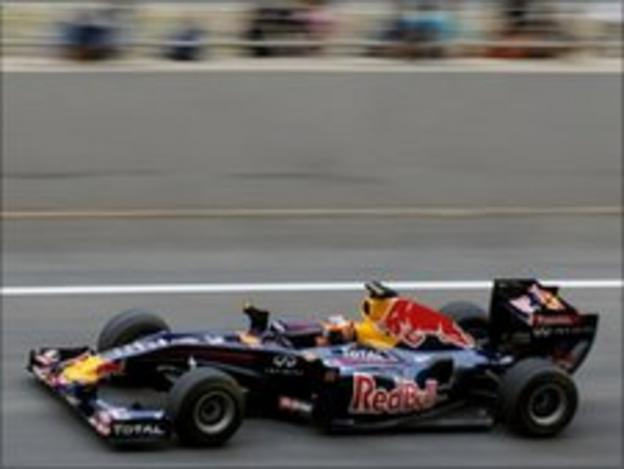 It's the Indian Grand Prix weekend - the first time F1 has been there - and I'm really looking forward to it.
I've never been to India and one of the things I really want to do when I'm not so busy is get a motorbike and take some time exploring it. It's a captivating country, with such history and beauty.
They love sport in India, especially cricket. I've been fortunate enough to meet Sachin Tendulkar and some of other players when they have come to races. I know through Steve Waugh and Ricky Ponting how tough it is to play over there.
I would love to watch a cricket match in India but this weekend I'm obviously going to be a little busy in an F1 car. I have to admit that, when I started my career, I never thought I would be racing in India. Things have changed pretty quickly in the last 10 years.
I've driven the Buddh International Circuit on Red Bull Racing's simulator. It's fast and challenging and should be good for the drivers to get their teeth into, which is rare for a new track these days.
We all hope India is going to embrace the event but it is such a big and varied country that it will obviously be a big test for F1 to try to establish itself there.
Some great things are going to come out of holding a race there. They are determined to put on a fantastic event and the drivers are looking forward to racing at a new venue.
The proof will come in three or four years' time. Everyone hopes it will grow into one of the most important races on the calendar.
Mark Webber was talking to BBC Sport's Andrew Benson. Read his exclusive column every Thursday.