Force India begin X Factor-style hunt for F1 champion
By Lawrence Barretto
BBC Sport
Last updated on .From the section Formula 1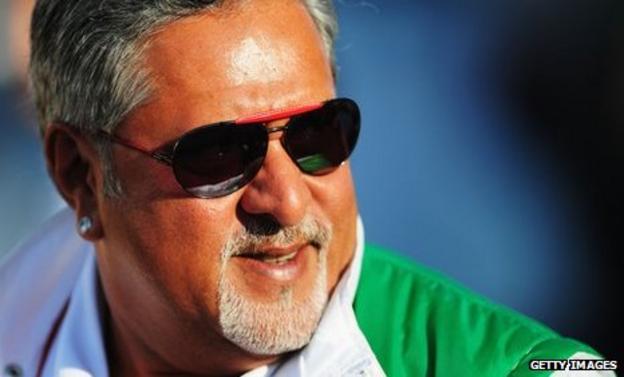 With 1.2 billion people living in India - the second-most populous country in the world behind China - logic would dictate that someone, somewhere, has the raw talent to become the country's first Formula 1 world champion.
But a lack of funding, equipment and go-kart tracks have suppressed the dreams of young hopefuls - until now.
Indian entrepreneur Vijay Mallya, boss of the Force India team, is pioneering a scheme to unearth the country's undiscovered talent in his own version of talent show The X Factor.
It is Mallya's attempt to transform his F1 outfit into an authentic national team.
Called One From A Billion, the premise is simple: one billion people, one opportunity of a lifetime - to become India's next F1 driver. The competition, which closed to entries in June, was open to anyone of Indian origin, aged between 12 and 19.
To enter, all the budding racers needed to do was turn up at their local go-kart track and show the team and its panel of expert judges what they were made of.
The winner earns a fully funded motorsport programme for a year and that support will continue all the way to F1, providing the driver meets their performance goals.
India has only ever had two national drivers on its books in the form of Narain Karthikeyan, who will compete in a one-off race for HRT in India, and Karun Chandhok, who is the Team Lotus reserve driver. Neither has managed to challenge for victories as yet.
Bob Fernley, Force India's deputy principal and Mallya's right-hand man, feels the sport needs new blood, hence the new initiative.
He said: "We have talented [Indian] drivers in the market at the moment but we don't feel either of them could compete with our current line-up.
"We are Force India and Vijay is very patriotic. He wants to see new drivers in there and he wants to see a significant element of Indian expertise coming through."
There are national karting and single-seater championships already in place in India but, for many of the One From A Billion finalists, there have been two elements which have previously held them back from competing in motorsport - funding and quality of facilities and equipment.
"Go-karting is very expensive and not many people in India can do it," said Jehan Daruvala from Mumbai who, at 13, is the youngest competitor in the final.
"There are hardly any tracks and they don't have very good equipment. You go out and the kart gets spoiled after a few laps."
In order to give every Indian a chance, the team took 20 professional go-karts on a road trip around seven major cities in India.
From there, the entrants were whittled down to 100, then flown to Goa in south India for four further days of testing.
Fernley and Force India test driver Nico Hulkenberg then handpicked 10 finalists and brought them over to England last week to face a final series of challenges.
Over four days, the judges, including Eddie Jordan, Lewis Hamilton's father Anthony, Hulkenberg and Fearnley assessed the youngsters' potential as they flew round the Daytona Milton Keynes go-kart track.
"The first day, we saw how they got on in a competitive kart on a realistic race track for the first time," said Fernley. "Then we tested their physical fitness, followed by some media training and a final day of racing.
"The winner won't necessarily be the one that has the experience. We are looking for the one that's got the talent to bring through."
According to Hamilton, it's a steely determination, rather than a gift for driving fast that is the key to succeeding in motor racing.
"I'm not a great believer in natural talent," says Hamilton who manages Force India driver Paul di Resta. "I believe that, if you want something bad enough, you've got to work for it."
Two of the last three world champions - McLaren's Lewis Hamilton and Red Bull's Sebastian Vettel - secured backing from their respective teams at an early age to suggest the model of grooming a driver through the ranks can reap rewards.
"There are not a lot of people who can afford to go motor racing in India so this programme is a bit like The X Factor," added Hamilton.
"You've got to take a chance, get in the queue and see if someone will spot you. With a population of a billion people, there would need to be talent-spotters all over the country. Realistically that's never going to happen.
"Based on the law of averages, there must be someone talented out there and this programme will hopefully find them."
After days of deliberation, Arjun Maini, 14, from Bangalore was chosen by Mallya as the boy who he hopes will carry the heavy hopes of a nation all the way to F1.
Maini will head to Europe next season for a comprehensive driver development go-kart programme - with Force India footing the bill for all the costs including education, lodging and training.
So impressed was Mallya with the quality of the finalists that he has decided to send the runners-up - Tarun Reddy, 14, from Chennai and Daruvala - to Europe, too, with the aim of mentoring the trio all the way up into a single-seater Formula series, GP3, GP2 and then F1.
The F1 paddock will no doubt keep an eye on the Indian trio over the next few years to see whether they really have got the X Factor Mallya so desperately craves.