Romain Grosjean to get Renault F1 chance
Last updated on .From the section Formula 1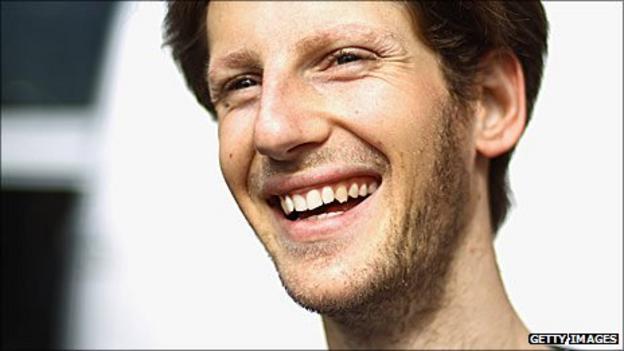 Swiss Romain Grosjean will drive for Renault in the first practice sessions at the final two races of the season in Abu Dhabi and Brazil.
The move comes as Renault weigh up their options for 2012, with at least four drivers under consideration.
Grosjean, 25, raced seven times for Renault in 2009 but failed to impress alongside team-mate Fernando Alonso.
Team boss Eric Boullier said it was an "appropriate time" for the GP2 champion to "put his skills to the test".
Grosjean will drive Bruno Senna's car in first practice in Abu Dhabi in two weeks' time and Vitaly Petrov's in the same session at the final race in Brazil a fortnight later.
He is a protege of Boullier's Gravity driver management company and is one of the drivers in the frame to race for Renault in 2012.
There are at least three other drivers in the frame - Petrov, Senna and Robert Kubica, who was the team's number one driver before suffering serious injuries in a rally accident in February.
Kubica has spent the year recovering from a partially severed hand, as well as arm and leg fractures.
His doctor has said that he will be ready to race in 2012, but the team have said they cannot wait forever to establish whether he will be fit enough to race next year.
Boullier has said that he believes Grosjean has improved as a driver since 2009 and is more ready for F1.
"I'm sure that his feedback will be useful for the team, especially as he raced in F1 only two years ago," Boullier said.
"Since then, he has improved in every area and I'm sure he will do a good job for us."
Grosjean, who was born in Geneva but has dual French and Swiss nationality, said he was "delighted and very excited".
"I don't feel too much pressure," he added. "Getting an opportunity like this is always a massive boost and I'll make sure I make the most of the chance I've been given."