Paul di Resta to keep Force India seat in 2012
Last updated on .From the section Formula 1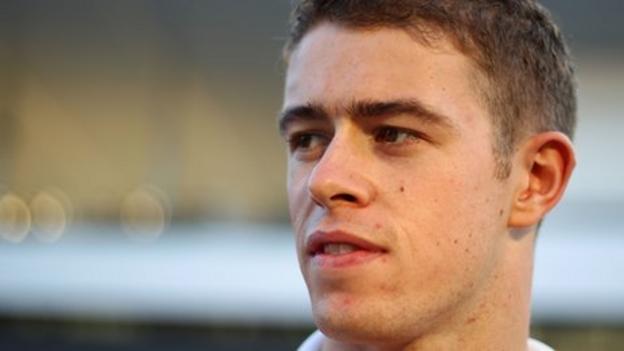 Paul di Resta is poised to be named as a Force India driver for the second year in succession after an impressive debut season in 2011.
The 26-year-old Scot is expected to be confirmed by the team in the coming week, with either Adrian Sutil or Nico Hulkenberg as his team-mate.
Hulkenberg, the team's reserve driver this year, is favourite for the seat.
But fellow German Sutil, who has driven for the team since it was Midland in 2006, is still a possibility.
Sutil, 28, brings with him sponsorship funding, which is at a premium for many Formula 1 teams in the difficult economic climate.
He has also been linked with a seat at struggling Williams, although there are intensifying rumours that former McLaren and Ferrari driver Kimi Raikkonen will return to F1 with them next season after a two-year absence.
Di Resta has been widely hailed as this year's most impressive rookie.
He is 14th in the drivers' championship, three places and seven points behind Sutil, but had out-qualified him nine times in 17 races after this weekend's Indian Grand Prix.
Team boss Vijay Mallya was planning to announce the 2012 driver line-up at the end of the season but, speaking in India, he told BBC Sport that he would make the decision next week.
Mallya said: "I had said December as a timeline, but Adrian has requested to find out earlier and I respect that. We'll think about it after this race and then make a decision."
Sutil said he was confident of being in F1 next season, regardless of Force India's decision.
"I will have to see what happens," Sutil said. "It's good that he [Mallya] is trying to give us more answers earlier because you never want to wait so long.
"As soon as I know, I will let you know. There's not so much I can say right now but yes, I see myself in Formula 1 absolutely."