Williams name Mike Coughlan as technical director
By Sarah Holt
BBC Sport in Greater Noida
Last updated on .From the section Formula 1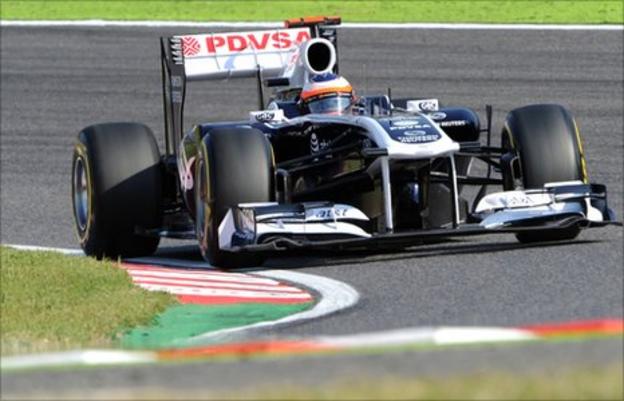 Mike Coughlan - the man at the heart of 2007's spy-gate scandal - has been named as the new technical director at Williams.
The team made the announcement in India after waiting for outgoing technical chief Sam Michael to leave last month.
Williams chairman Adam Parr described the reshuffle as a "positive step".
The team are in desperate need of fresh ideas after the worst season in their history, which has seen the former championship-winning team slump to ninth in the constructors' standings with just five points.
A series of changes has seen Jason Somerville join as chief aerodynamicist and Mark Gillan as chief operations engineer. Both men are formerly of the now-defunct Toyota team, which quit F1 at the end of 2009.
"There are some areas where we need to invest a little bit and we are doing that as fast as we can to really try and take a big step forward next year," added Parr.
But Coughlan's return remains controversial because he was one of two central figures in the spy-gate scandal that rocked the sport in 2007 and cost McLaren all their constructor points that season and a fine of $100m (then £49.2m).
The other man was former Ferrari performance director Nigel Stepney, who in 2010 accepted a plea bargain that gave him an eight-month prison sentence - which he did not serve - after being accused of passing the documents to Coughlan.
Coughlan was working as a senior McLaren engineer when he was found to be in possession of a confidential technical document belonging to Ferrari.
Williams have also had to reach an out-of-court settlement with Coughlan's former employers, the Nascar team Michael Waltrip Racing, who accused them breach of contract.
Speculation is growing that another headline-grabbing name could return to Williams next season.
Ferrari's 2007 world champion Kimi Raikkonen has been linked with a return with Williams, with Williams not expected to retain 39-year-old veteran Rubens Barrichello.
When asked directly if the 32-year-old Finn would drive for Williams next year, Parr batted away the question, saying: "Our race drivers are Pastor Maldonado and Rubens Barrichello and if, and when, that changes we will make an announcement."
But Parr's answer to BBC Sport's inquiry if the team needed a driver who could bring money to the team was more intriguing.
"Absolutely not," said Parr. "We just need the right line up, full-stop."