Deconstructing Lewis Hamilton v Felipe Massa crash
By Mark Hughes
BBC F1 commentary box producer
Last updated on .From the section Formula 1
There are signs that the worst of Lewis Hamilton's crisis in form has passed - despite yet another collision with Ferrari's Felipe Massa in an otherwise lacklustre Indian Grand Prix.
Massa is not the only driver Hamilton has come together with this year - Williams's Pastor Maldonado and his own McLaren team-mate Jenson Button can be added to the list.
But if the previous incidents seemed to betray a certain lack of judgement for Hamilton, Sunday's collision would appear to be a much more straightforward racing incident.
In fact, Massa ended up with the drive-through penalty on this occasion, even if not everyone agreed this was a just outcome. Some felt it was Hamilton's fault, others that it was simply hard racing.
The build-up came on the previous lap when, under pressure from Hamilton, Massa got out of shape at the exit of Turn Three, the slow corner onto the very long straight, making him vulnerable to the McLaren into Turn Four at the end of that straight.
Hamilton deployed his DRS overtaking aid wing and all of his Kers power-boost yet still could not quite make the move work, despite getting alongside the Ferrari at both Turns Four and Five.
Massa's Ferrari was running much lower downforce than team-mate Fernando Alonso's and was very quick down the straight, having clocked 199.7mph through the speed trap there in qualifying compared to 196.4mph for Hamilton (and 197.1mph for Alonso).
Hamilton had just found out that, with Massa using his own Kers to defend, not even the help of DRS gave enough of an advantage down that straight to allow him to pass.
So for the next lap, as Hamilton was again within the required one second of the Ferrari at the DRS trigger point, he had a plan to try something different.
He would use his DRS of course, but not all of his Kers, knowing that Massa would likely deploy all of his on that straight, thereby leaving the Ferrari driver without his power-boost on the short sprint between Turns Four and Five.
That is how the McLaren accelerated so much faster out of Four and moved alongside the Ferrari down that short straight.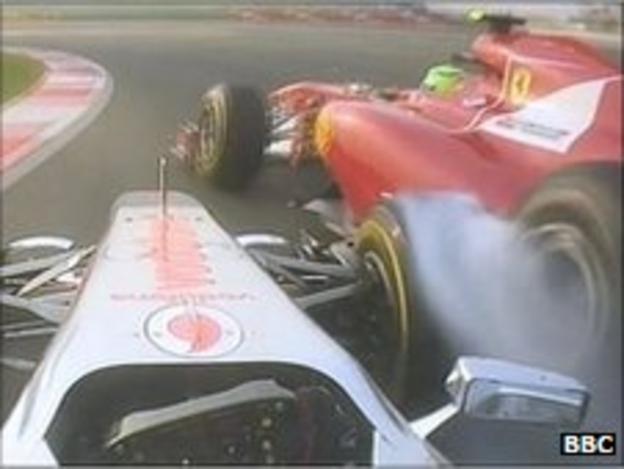 But then Hamilton ran out of Kers, too, so the McLaren was no longer accelerating faster, deprived of the extra 80bhp.
At this point, realising Hamilton now had the inside line, Massa switched to the conventional racing line on the outside and braked as late as he judged possible - which on the clean and geometrically correct line was much later than Hamilton could brake on the dusty inside line.
Hence the McLaren was no longer fully alongside the Ferrari, but only partly so (Hamilton's right-front connected with Massa's left-rear as the Ferrari turned in).
It was the fact that Hamilton was no longer fully alongside that Massa felt justified in turning in.
What the stewards saw was a car coming down the inside faster, with the guy on the outside then moving further right, thereby apparently surrendering the corner - only to then turn in.
"They told me they penalised me because when I had moved to the outside, I was giving him the corner, then I changed my mind," said Massa.
"But it wasn't like this. I went to the outside so I could brake late because I knew that's where the grip was. I was not surrendering the corner - and Lewis was no longer alongside me. That's why I turned in."
Massa has a point. The McLaren was initially coming down the inside faster - but only because of Kers.
By the crucial time just before the braking zone, the two cars were travelling at much the same speed. Knowing he was going to be able to brake later, why should Massa have been surrendering the corner? It makes perfect sense that he was still fighting it.
It then comes down to the racing etiquette of when a car is far enough alongside you to have won the corner.
The unwritten rule used to be that if the guy was not in your peripheral vision by the turn-in point, you were perfectly entitled to treat him as if was not there - and that it was his business to yield as you then turned in.
Of course Massa knew Hamilton was there - he had been fully alongside him just a second or so earlier. But that does not necessarily mean that, with Hamilton no longer fully alongside, Massa was not entitled to claim the corner.
There is then a distinction between that and turning in knowing you were likely to collide.
If penalties are to be handed out then, yes, it was Massa who made the final move that made the collision inevitable - and, if that is the criteria, then fine.
But if that is the criteria, then the etiquette has changed over the years.
In the days before stewards could impose stop-go or drive-through penalties, a driver in Hamilton's position would have been perfectly entitled to have tried that move.
But he would then have no cause for complaint if Massa had effectively said: "No, you're not going to intimidate me out of the way with a half-move, one you haven't made stick by getting fully alongside. I'm going to turn in and you'd better get out the way. I'd rather have the accident than have you bully me out of the way in a move you haven't made work."
Under those terms, it would be OK for Hamilton to try it on, OK for Massa to refuse and the resultant accident would be just a racing incident, just what happens sometimes in the game.
Hamilton admitted afterwards that, as he realised Massa was not surrendering the turn, he tried to get out of the move. But it was too late.
It was also probably too late to have made it work by staying committed. They would just have had a slightly different accident had he done that.
So this was not so much a judgement error by Hamilton, more a misinterpretation of Massa's move - the same misinterpretation the stewards may have made. There is, therefore, every reason to believe that Hamilton's focus has returned.
"I've decided to get rid of everything in my life that detracts from my racing," he said on Saturday. "I've not been at my best this season and the team deserves better."
"His body language was much more positive this weekend than in the last couple of races," observed team boss Martin Whitmarsh.
Hamilton indeed seemed reflective and calm in India rather than troubled, as he had appeared in Korea two weeks before. There were even flashes of a genuine smile.
Which leaves just his yellow-flag incident in practice, something that cost him a three-place grid penalty, the very reason he was stuck behind Massa at all.
But that is just standard red-zone Hamilton, the emotion that produces the special moments as well as the occasional incidents, incidents unlike most of those this season that seemed to come from someone not in equilibrium.