Mark Webber column

By Mark Webber
Red Bull driver
Last updated on .From the section Formula 1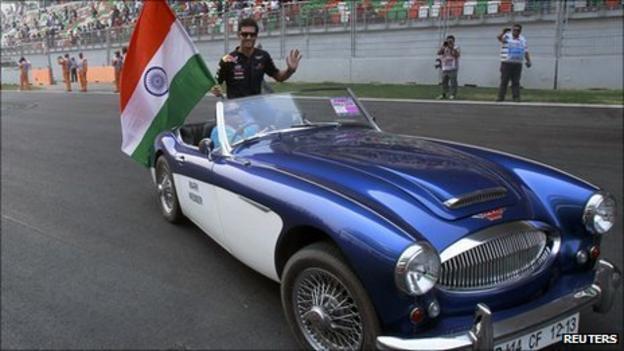 India was an eye-opening experience for me. I've always been fascinated by the country, as I think many people are, but nothing prepares you for your first experience of it.
I have never seen anything like it - and I have travelled to a lot of places in the world.
With a population of 1.2bn and huge cultural diversity, seeing is believing in India. There is a lot of poverty but also a lot of happiness. People get on with their lives just as they do anywhere else in the world.
It doesn't sit particularly comfortably with me when the excessive world of F1 arrives somewhere like this, but the welcome we got ahead of last weekend's Indian Grand Prix seemed genuine and it appeared most people were happy to have us in their country.
I landed at Delhi airport at 5am on the Thursday before the race. A driver picked me up and we got lost straight away.
It was just me and the driver in the car. We were in the middle of Delhi, talking to random people in the back streets as we tried to find the way to the hotel. I obviously had no idea where we were.
The driver was trying his hardest to converse with me but, as you might expect, his English wasn't great and my Hindi is non-existent.
He had that beautiful warm smile you see on the faces of so many people in India but you could see he was beginning to panic a little.
I told him there was no rush. I was enjoying having a look around. I basically got a free tour of Delhi.
All the feral dogs were running around as the day was beginning to break. The light is like nowhere else, so it's little wonder you see so many films shot at that time of day in India.
Once we got to the hotel, I could have been anywhere in the world. The staff went to quite a bit of effort to look after us all but, as you go to bed there each night, I was well aware that there are people living in very different conditions not very far away.
I mentioned in last week's column that I was keen to spend more time in India, to get a motorbike and ride around. The few days I spent there last weekend just made me more determined to do just that at some point in the future.
I'm particularly keen to travel up into northern India and the foothills of the Himalayas to see how people live in such remote yet beautiful areas and to ride some of the highest mountain roads in the world.
It would be incredible, so it is high on my to-do list when I get a bit more time to myself.
THE GRAND PRIX
The race, won by my Red Bull team-mate Sebastian Vettel, appeared to be a great success.
It must be a hard task encouraging the Indian people to fall in love with F1 - for a lot of them, a car race is not high on their priority list - but the organisers have put a massive amount of effort in.
The buildings and infrastructure at the Buddh International Circuit are not world-class yet, although they will be, and you could see a few things had to be rushed to get ready. But the track itself is awesome, particularly the second and third sectors.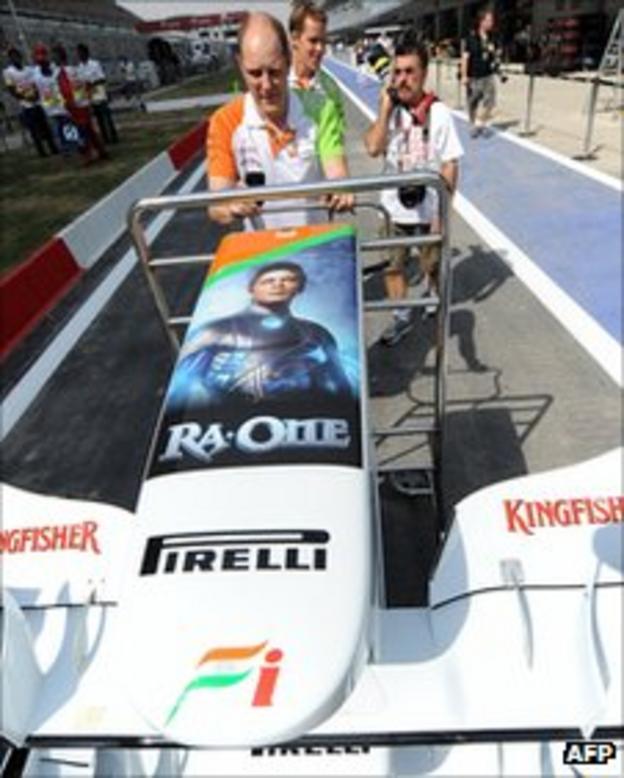 I was impressed with the crowd, too. There were 95,000 fans on Sunday, while the pre-race driver parade was an amazing experience. The grandstands were packed and the people were making a hell of a racket.
I managed to persuade one of the marshals to give me an Indian flag. I thought it would be nice to send a bit of a message about how happy I was to be there and to thank the people for making the effort to come and watch.
To see so many people at the race in its inaugural year was very encouraging. In some ways, it felt a bit like being in Japan, where people are still a bit awestruck around F1 drivers.
But F1 is still no match for the popularity of Bollywood and its stars, who are feted everywhere they go.
The famous are really put on a pedestal in India and the F1 drivers were treated like incredibly special people. We're just like anyone else, of course. We just do a different job.
I guess the Indian people were just so excited to have international sports stars in their country because, apart from the touring cricket sides, it doesn't really happen that often.
MY INDIAN RACE
India wasn't the greatest race for me. I knew going into it that I was a little bit doomed - and that's how it turned out.
I was struggling to get the range out of the tyres, which really messes up your strategy. The team have a reasonable understanding of why it happened but there was nothing we could do.
I got a good start but Jenson Button got a run on me on the first lap. We knew we were going to be vulnerable to the McLarens and Ferraris on the straights and it was very hard to defend my position.
I was quite a lot quicker than Jenson early on but I was aware I needed to be careful with my tyres. Then I had to make my final stop early, allowing Ferrari's Fernando Alonso to jump me as well.
I closed in on Fernando in the final laps - I seem to spend virtually every race battling him at the moment - but I just couldn't get past.
All in all, it was a frustrating day for me after the races in Japan and Korea, when I was much closer to the front in terms of pace.
HAMILTON V MASSA
You could argue all day about the rights and wrongs of the latest crash involving Lewis Hamilton and Felipe Massa but it was a 50-50 incident in my opinion.
The corner they collided at is quite a quick one - fifth gear at about 135mph - so the brakes don't go on much.
It's very difficult to pass there but Lewis got a good run off Turn Four and got down the inside of Felipe.
It was the age-old thing. Lewis went for it, Felipe was still going to commit to the corner, then Lewis tried to back off and couldn't.
F1 is getting into a bit of a road-car culture with penalties. The attitude seems to be that someone must be to blame when there is an incident.
In this case, the stewards thought Felipe could have given Lewis a bit more room and therefore handed him a drive-through penalty.
Yes, Felipe could have made space for Lewis but, in my view, it wasn't clear-cut.
The drivers have always said that they want the stewards to be consistent - and, to be fair, that's what they are trying to be.
If someone's had an absolute howler, then fine, give them a penalty but sometimes it might be better just to say it was one of those things - what we call in F1 "a racing incident" - and let it go.