Mark Webber column

By Mark Webber
Red Bull driver
Last updated on .From the section Formula 1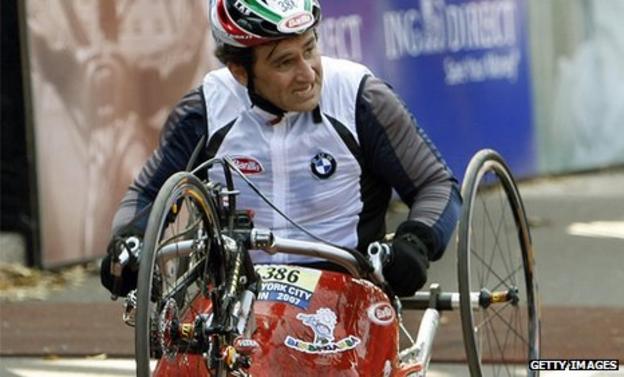 This has been a tough period for motorsport, as everyone is well aware, but last weekend there was a hugely uplifting event that I wanted to tell you about.
Since then, Alex has set about rebuilding his life and finding ways of satisfying his competitive urge.
He had success in touring cars, in a specially adapted BMW, and he has now set his sights on winning a Paralympic gold medal in the hand-cycle event. It looks like he's well on his way - on Sunday he won that category in the New York Marathon.
What an achievement that is.
Only Alex knows what it has been like to go through what he has, but I would imagine he has got at least as much satisfaction out of what he has been able to achieve in this new chapter of his life as he did behind the wheel of a racing car.
Being a professional racing driver and getting to the top is incredibly tough, but to have this enormous hurdle put in front of him and still have all his competitive instincts and drive intact is brilliant.
I have only met him a few times since his accident but he is always such an incredibly positive source of energy.
Certainly, he has taken a lot of inspiration from other people who have been through tough times and got as many positives out of them as they can, but that doesn't diminish in any way what he has achieved. It's awesome.
ON THE MARK
After this weekend's Abu Dhabi Grand Prix there is only one race left in this F1 season but there is no question of any let-up from the teams and drivers.
With both the drivers' and the constructors' championships already wrapped up, the season seems to be going on a bit longer than last year's, when it was still all to play for until the last race.
On top of that, the recent tragedies involving IndyCar driver Dan Wheldon and MotoGP rider Marco Simoncelli have made us all pause for thought, but everyone is as determined as ever to do well in Abu Dhabi on Sunday and Brazil in two weeks' time.
Because my team-mate Sebastian Vettel has won the drivers' title and my Red Bull Racing team are already constructors' champions, you might think from the outside that these races are dead rubbers.
But in F1 we don't look at it like that. Every race is important.
A grand prix is not as much of a rarity as the Olympics but, at the same time it's not like football, where you might have 50 matches in a season.
In F1 we have just 19 chances to race at some very challenging venues. At every one we're competing against the best guys in the world, so there's always something at stake.
I saw that Ferrari team principal Stefano Domenicali had said that Abu Dhabi would be a tough race for their driver Fernando Alonso, because it's where he lost the championship last year to Seb.
The same could be said for me. If you remember, going into that race last year, Fernando was leading the championship, I was second and Seb was third. But things went Seb's way, and not mine or Fernando's.
That might have been the race where the championship was finally handed over, but it was - and is - won and lost at lots of venues around the world, so we're not going to get too hung up on what happened at one track.
There will obviously be some emotion - that's the case everywhere we go because all tracks have memories. It was obviously a disappointing time for me after the race last year, for example.
But I won't be dwelling on that - and I'm sure Fernando won't either. Once you get in the car, all that has gone and you just enjoy driving again.
OFF THE MARK
When I was at school, my sport was rugby league. The Australia team's assistant coach nowadays is a guy called David Furner, who used to babysit me when I was a nipper.
But believe it or not, although I've seen countless rugby league games - and the Wallabies play rugby union several times - I had never seen the Kangaroos play rugby league.
So it was a great experience to go to the Australia v England Four Nations match at Wembley on Saturday as David's guest.
It was a tough game - much closer than Australia's 36-20 victory scoreline suggested.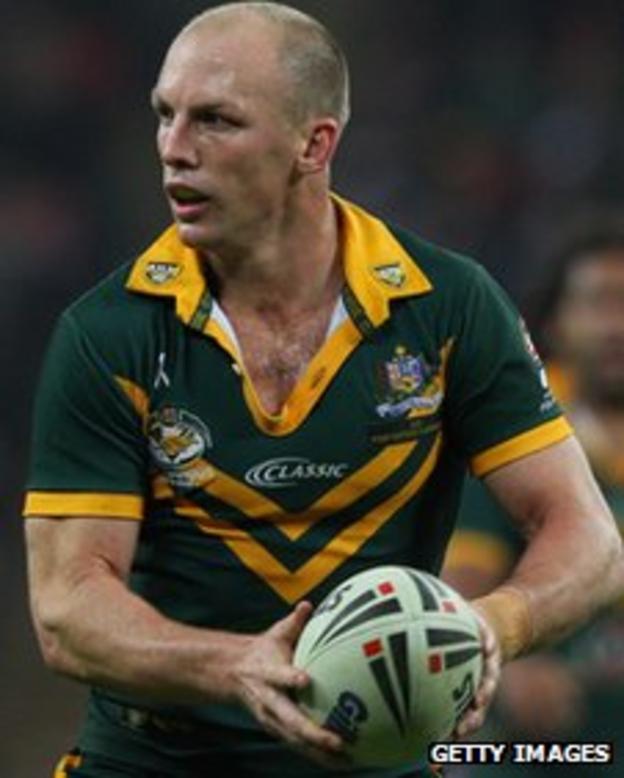 The guys invited me down to the dressing sheds straight after the game to see the team unwinding after the win.
It clearly meant a lot to them and it was good to be involved in that environment - a very different one from what I'm used to.
They have a lot of young guys on the team. At 35, I still feel young, but some of these guys were 10 years younger than me - and weigh 115kg. That's the same age as Sebastian Vettel - and twice the weight!
I went back to the hotel with them on the team bus. They asked me to vote for my top three players, and I gave out some model cars and miniature race helmets as prizes.
I was also fortunate enough to spend some time talking to Darren Lockyer, one of the biggest stars in rugby league, who is retiring at the end of the season.
Like all the guys who are truly great in their sporting field, he was sharp and switched on.
He only has a few matches left in his career and we had a chat about what his life is going to be like when he finally hangs up his boots.
I told him that a lot of great drivers had made that decision - and not all of them have done it at the right time.
It's always a difficult judgment to make, and it's even tougher when you're still getting the results, as Lockyer is. But he is comfortable with the decision he's made.
WEBBER UNSPUN
I couldn't let this column go without a mention of Sir Alex Ferguson, who last weekend celebrated his 25th anniversary in charge of Manchester United.
When I first came to England from Australia, I didn't watch football at all. I didn't like how the players dived and feigned injury and all that stuff.
But the first game that captivated me was the 1999 Champions League final, when United came from 1-0 down against Bayern Munich to win 2-1 with two goals in 90 seconds.
I just couldn't believe that could happen in such an important match.
Since then, United have rescued so many games in the final minutes, and it's not down to luck.
It's down to experience, composure - and also probably knowing what they're going to go back into in the dressing room!
We all know Ferguson is like Marmite - you either love him or you hate him. But if you have been involved in sport - of whatever kind - you can't help but have huge respect for what he has done.
He wakes up every day thinking about United.
One of his greatest strengths is his constant ability to rebuild and reshape the team with youth. He never seems to fear the loss of his established and experienced stars should they move clubs or retire, and has total confidence in bringing out the best in the next generation.
Whether you support United or not, what he has achieved there in 25 years is incredible.