Lewis Hamilton says Abu Dhabi GP win marks new start
By Sarah Holt
BBC Sport at Yas Marina
Last updated on .From the section Formula 1
Lewis Hamilton hopes his win in the Abu Dhabi Grand Prix will be the start of a more positive chapter in his career.
The McLaren driver has had a trying season but feels he made a breakthrough at the Yas Marina circuit.
"It is early days yet, but this is definitely the start of something hopefully very good," the Briton said of his third win in 2011.
"We've got another great race ahead in Brazil and I've got to put my focus on that and try to keep the momentum."
Despite the win the 26-year-old cannot catch his team-mate Jenson Button in the championship this year, but he is proud to have answered doubts about his performances with a victory.
Hamilton has had a string of on and off-track problems, but he drove a controlled grand prix to fend off race-long pressure from Ferrari's Fernando Alonso.
"With the pressure I've been under and the doubt that has surrounded me, I feel massively proud," he added.
"I definitely think this weekend I've been clearer in my mind and had less weighing on me."
Hamilton has often found himself in the spotlight for all the wrong reasons this season after a series of on-track controversies, most notably his collisions with Ferrari's Felipe Massa and his own team-mate Jenson Button in Canada.
Alongside all that, he has had to deal with a recent split from his long-term girlfriend Nicole Scherzinger and the deaths of two close friends.
Hamilton signalled his intention at the last race in India to eradicate all distractions in 2012 and felt he made a step in the right direction with his controlled victory on Sunday.
"I've had less [focus on] thoughts, issues and whatever problems that I've got," said Hamilton, who notched up his 17th career win.
"I was just able to drive clearly. In the last race I had that mistake [a clash with Massa] when I was not thinking straight.
"This weekend I was able to think straight and I don't know if that's because I had some great support here but I've had a positive feeling all weekend and I feel very fortunate.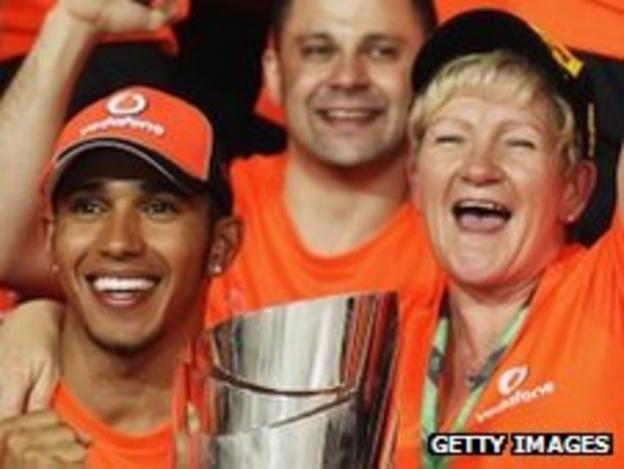 "My friends and family have been incredibly supportive, particularly more so in the recent weeks, and so that has made a big difference."
Hamilton was gifted the lead when Red Bull's Sebastian Vettel retired at the second corner of the race because of a puncture.
But the 2008 world champion did not open a lead of more than five seconds over Alonso until after 30 laps and his former McLaren team-mate tried to jump him at the final round of pit stops.
"When I was doing the [last] lap on my way in I was thinking that this was definitely one of my best races," Hamilton added.
"It's very rare for me to get the opportunity to maintain the gap and control the pace but I had the pace and I was able to put in the laps whenever Fernando went quicker.
"When he closed the gap I was able to keep it the same or pull a little bit more out.
"In terms of my own performance, I don't feel like I made a single mistake in the race. To hold off one of the best drivers in the world is very tough to do.
"I'm really, really very happy to be back up here."
McLaren team principal Martin Whitmarsh described the win as "important" for Hamilton and added that he now expects him to go to the next level.
"There was a lot of pressure but he drove brilliantly," said Whitmarsh. "It was the Lewis we know and love and he really enjoyed it.
"He has been strong all weekend, he came here in a good frame of mind and focused. It didn't quite work out in qualifying, as we thought we should be on pole, but the win was great for the team.
"There is no reason in my mind why he can't raise himself to another level now. This was a great recovery from where he's been in the last few months.
"He's happy with this one and that enables people to drive with greater confidence and to attack that little bit extra. We're looking forward to Brazil now and having another race - and he will want to win there."