Martin Brundle column: Lewis victory a little hollow

By Martin Brundle
BBC F1 commentator
Last updated on .From the section Formula 1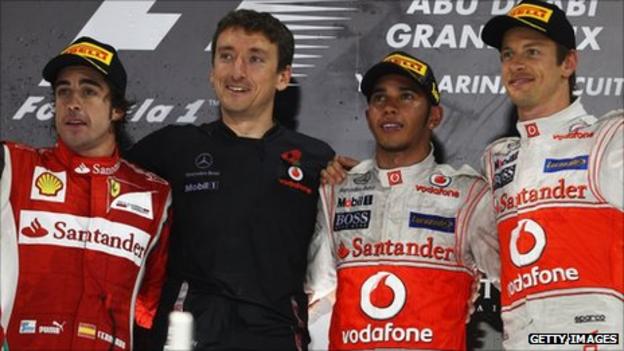 Lewis Hamilton was on his best form to win the Abu Dhabi Grand Prix, and his victory fulfilled my hopes that the race would produce a different outcome from the usual Sebastian Vettel domination.
Even so, a few minutes after the Red Bull's driver's retirement on the first lap of the race, I realised that without him there was a key element of excitement missing.
It felt a little hollow that the season's benchmark was out of a race in which we fancied that McLaren could beat Vettel in a straight fight.
Luckily for us, Ferrari's Fernando Alonso delivered a tremendous start and first lap to set up an intriguing 55 laps as he did his best to hunt down Hamilton's McLaren.
Hamilton said that his main thoughts as he saw Vettel spinning off with a deflated tyre in turn two were to be sure not to join in the accident. But the Red Bull eventually skidded to a halt well off the racing line, leaving Hamilton with a handsome lead.
Hamilton was quick to spot in his mirrors that Alonso had moved into second place with a very firm attack on Jenson Button to split up the McLaren one-two.
There seems to be a higher level of respect between Hamilton and Alonso at the moment as they praise each other, probably driven by their common need to haul in Vettel and Red Bull as much as anything.
Hamilton seemed to have the answer to Alonso's relentless pursuit, but it was a thrilling display of driving skill as they traded fastest sector times and laps.
When Alonso went longer to the second stop having had a better run through traffic, it looked as if the Ferrari might just steal the lead, but following an HRT into the pits and other issues meant he fell short in the end.
Hamilton is so difficult to read at the moment.
Unlike at some recent races, his bright smile was in evidence all weekend and when we interviewed him along with his mum on the post-race red button Forum, I observed that he was positively glowing with warmth as he watched her answering a question.
He says he needs to invite his friends and family more often, and it reminded me of his debut season in 2007 when he had everybody around him.
Frankly, I don't understand this concept that family and friends can or should make a difference to your on-track performance, but I'm from a different generation and I never experienced the spotlight and pressure that the likes of Hamilton do.
Whatever he needs, he was on blistering form in Abu Dhabi and was the man to beat throughout.
Jenson Button was having issues with his Kers power-boost system from lap 12 and he had to dive into the menus on his steering wheel to reset it on more than one occasion.
The mind and system management in the car now is very impressive.
I remember when I drove the Pirelli test car in June and was asked to change steering wheel settings. While driving at speed and talking into a microphone in my crash helmet, my mind went into overload. And I didn't have Mark Webber alongside me at 200mph trying to out-brake me.
Button said that he loved wearing the McLaren winner's orange T-shirt post-race even if it was because Hamilton had won.
I take that with a pinch of salt from a very determined racer, but it's a smart thing to say and underlines why the team love him so much.
If Ferrari could add qualifying pace to their great starts and race tempo they would be contenders for victory.
It has been a regular feature that they race better than they qualify, but it bodes well that there is technical direction in the team who are capable of delivering a strong 2012 car.
A long pit stop of 9.4 seconds ruined Mark Webber's race as his Red Bull team were then forced to roll the dice and put him on a three-stop strategy to have a chance of finishing fourth ahead of Felipe Massa's Ferrari.
Massa had had to give up his new front wing when Alonso damaged his own (sounds familiar) and a spin while pushing hard gifted Webber fourth, but the Australian will still be disappointed to be off the podium on a day when Vettel retired.
So Red Bull's 19-race podium streak is over. After his retirement, Vettel sat on the pit wall with headphones on for what he intended to be five laps or so listening to the radio transmissions between the engineers and Webber.
In the end, he became engrossed in the race and learned quite a bit, it seems, about how the team read and react to a race as it unfolds. He even had a suggestion for his team-mate regarding gear choice in a corner to save fuel.
With the championship in his pocket he was reasonably relaxed after the race, despite the end of the record-breaking string of results which he so loves to collect.
Going into the race, many drivers felt that despite two DRS zones [in which drivers can use their moveable rear wing to aid overtaking], the Abu Dhabi track was still not going to generate overtaking - so the first DRS zone was extended by 75 metres before the race.
It's a mystery why this circuit layout does not generate loads of overtaking naturally - it has a hairpin into a long straight, into a slow chicane followed by another long straight into a heavy braking zone.
In the end, because the two DRS zones followed each other closely, anyone who overtook into turn eight at the end of the first one was a sitting duck to be retaken into turn 11 at the end of the second.
That meant lots of side-by-side action. Fake maybe, but I would much rather be debating this than the snore-fest we had last year.
Elsewhere, Nico Rosberg put some serious manners on team-mate Michael Schumacher during the first lap to regain his position as the leading Mercedes driver, and Force India got two cars to the finish in the top 10.
Paul di Resta's one-stop strategy, starting on the slower 'prime' tyre, did not pay off and he was beaten by team-mate Adrian Sutil, but that is still five points-scoring finishes in the past eight races for the Scot as his first season in F1 draws to a close.
And so now it's off to Brazil at the end of the month, to polish off a long but enjoyable season.