Mark Webber says drivers want DRS rethink
By Andrew Benson
BBC Sport
Last updated on .From the section Formula 1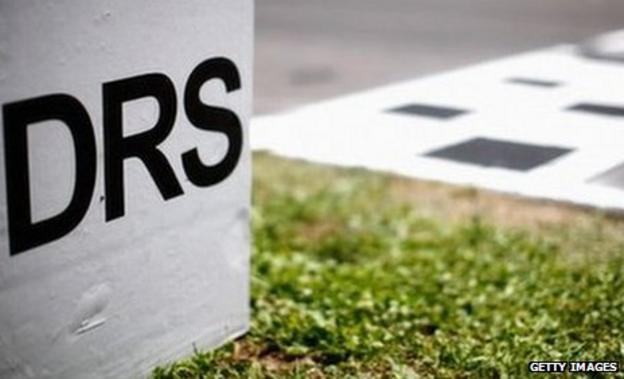 Formula 1 drivers want a rethink on the use of the controversial DRS overtaking aid for next season.
They feel allowing free use in practice and qualifying is a safety risk and want it restricted, like in races.
Red Bull driver Mark Webber said: "There have been a few incidents where people have gone off because they were pushing the boundaries of using DRS.
"So the drivers are almost unanimous that they would prefer its use outside of the race to be limited."
The DRS - or Drag-Reduction System - was introduced this season in an attempt to make overtaking easier.
The move was a reaction to the belief that passing had become too difficult.
In races, drivers are allowed to use the DRS in a specified 'zone' on one or more straights, but only if they are within a second of the car in front at a pre-ordained 'detection point'.
Drivers are given a signal in their cockpits when they have fulfilled the criteria, and press a button to activate the system.
This lifts the upper rear wing flap, which reduces downforce and drag and therefore gives a straight-line speed boost of between 12-20km/h (8-12mph).
Because use is free in practice and qualifying, drivers try to open the wing as much as they can to gain lap time.
But if they apply it too soon it can cause an accident, because they would be left with less downforce and grip than they need to stay on the track at the speed they are going.
Webber, writing in his BBC Sport column, said there had been at least three incidents this year caused by this issue.
"Renault's Bruno Senna had a crash in Suzuka [in Japan], I had one on Friday in Hungary, and one of my team-mate Sebastian Vettel's practice crashes was caused by that too," Webber said.
He added that the drivers would like the regulations to be changed so the system can be used in practice and qualifying "just in the DRS zone and perhaps a couple of the key straights, and with a restriction on the point at which you can deploy it so you're not too close to the exit of a corner".
Introducing the DRS was a controversial move because some feel it is interfering with the 'purity' of racing, and risks diminishing the importance of an overtaking move.
There has also been criticism that it has resulted in overtaking being too easy at some races, where governing body the FIA has erred in its calculations.
Webber, a key player in the Grand Prix Drivers' Association, said: "Inevitably, there have been some races where overtaking has been a bit too easy, such as China, Belgium and Turkey, others where it has still been too hard, such as Valencia, Barcelona and Korea, and others where it has been bang on. That's to be expected."
Bosses are unanimous in wanting to persevere with DRS in the future but acknowledge that it has been too easy to overtake at some races and will make refinements to the way the system is used next year, aided by a year's data.
Webber added: "We are approaching each race this year 'blind', so inevitably there is a bit of trial and error involved, along with a lot of science.
"It is a difficult subject to get right - and I'm sure with all the information gathered this season, it will be a lot closer to perfect next season.
"DRS is a controversial issue, not least because a lot of it depends on your point of view.
"Some people will like to see cars passing and re-passing all the time. Nascar stock-car racing in America is founded on that. But for some who have a more purist point of view about F1 - like me - overtaking should mean more than that.
"They've done a good job so far and I'm sure the teams and the FIA will get the balance a bit better at some of the tracks next year."